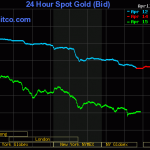 Gold and silver are taking it on the chin again today - leading many readers to keep asking me why gold is going down, and how long the plunge will last.
Gold futures today (Monday) logged their biggest decline since the 1980s, falling $140.30, or 9.3%, to $1,361.10.
What's up? Or rather, what's down?
On Friday, I went into a few reasons why gold is going down to provide some understanding of the action.
But with still further weakness, I'd like to delve in a little more, without repeating myself.
Why Gold is Down
You see, general markets are selling off today too, and even oil has lost $6 per barrel since Thursday.
Though off slightly, the U.S. dollar has maintained strength, probably thanks to speculation the U.S. Federal Reserve may end its quantitative easing sooner than previously expected. That hurts commodities which are all priced in U.S. dollars.
There's also been a considerable amount of selling of gold exchange-traded fund holdings, which has forced those ETF managers to sell their physical bullion. That has temporarily added supply to the market, which helps push gold's price down.