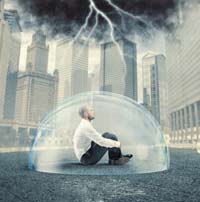 Most point to the bankruptcy of Lehman Brothers as the main trigger of the 2008 financial crisis.
Perhaps equally as important, but certainly not as well-covered, is what happened the following day...
That's when Reserve Primary Fund, one of the original and largest money market funds, saw its $785 million of Lehman holdings revalued to zero. Naturally, redemptions soared.
The fund's net asset value fell from $1 to $0.97 - a rare case of "breaking the buck," and redemptions were frozen for seven days.
As people ran for the exits from the 2008 meltdown, eventually almost 25% of money market assets sought redemption.
Liquidity instantly went from a waterfall to a trickle, and the financial system was pushed to the precipice.
With the crunch on, cash suddenly became extremely valuable. That was duly noted by central banks the world over. And those frozen redemptions give us some clues as to what lengths the authorities will go in order to achieve their aims; they're more determined than ever to do away with physical cash.
We now have some compelling evidence that central bankers are pushing to eradicate physical cash completely - and it's not for your benefit.