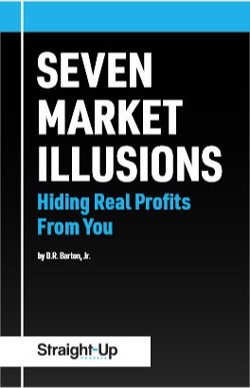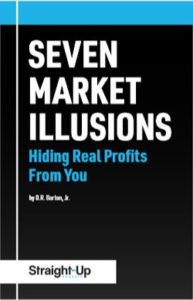 All the biggest, fastest moneymaking trades in the world come down to just two words:
"Reality Gap."
This is the "gap" between what the government, Wall Street, and the media want you to think, and what's really happening.
When you know the truth of what's going on in the markets, you stand to make a fortune.
Anyone who can see through the mainstream market narrative and the media hype is making serious money. Think five money-doubling trades in a single week.
That's why Money Morning Technical Trading Specialist D.R. Barton, Jr. is committed to showing his readers how to see the real story.
In his latest report, he's uncovered seven "illusions" - false stories designed to separate you from your money. He breaks them all apart, and gives you a clear way to profit for each and every one.
The profit potential here is staggering. He's only sharing this guide with his Straight-Up Profits readers - and you can join them right now, for free. To be signed up for Straight-Up Profits at no charge, just enter your e-mail below and you'll instantly be taken to this invaluable report.
By submitting your email address you will receive a free subscription to Straight-Up Profits, as well as occasional special offers from Money Map Press and our affiliates. You can unsubscribe at any time and we encourage you to read more about our privacy policy.