Water is one of life's necessities, and forward-thinking investors are wise to be aware of the best water stocks to buy each year.
Planet Earth's surface is made up of about 71% water, but only 2.5% is fresh water, while salt water makes up the remainder. Access to fresh water is important because it's what we need to drink, bathe, cook, and grow food.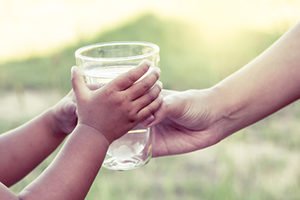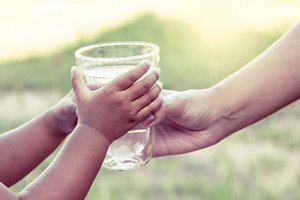 Yet, only about 1% of fresh water is accessible, but even much of that is in glaciers leaving only about 0.007% freely available for the billions of people and animals on the planet.
That means we are on the brink of a full-blown water crisis.
Since water is such a sought-after commodity, investing in water stocks is a way to diversify your portfolio, potentially leading to life-changing wealth.
Here's everything you need to know about this crucial industry, including our suggestions for the top water stocks to buy in the next year.
Are Water Stocks a Good Investment?
The United Nations World Water Development report for 2020 says that the effects of climate change are impacting water resources, leading to water shortages and contamination that affects crops. Currently, 2.2 billion lack access to drinking water that is safely managed.
Water is a precious commodity, and if governments can't give people access to clean water, they will need to hire corporations to help solve the problem, which is where your investments come in.
When you own water stocks, you can invest in and financially benefit from solutions that help the world through the water crisis–and there are many water-related problems that need to be solved.
A National Resource Defense Council report says that between 2015 and 2018, nearly 30 million Americans were drinking water "from community systems that violated the EPA's Lead and Copper Rule."
Sorry; this signup opportunity has ended.
A 2012 American Water Works Association (AWWA) reports set the cost for repair to existing water infrastructure at "$1 trillion over the next 25 years." And those costs only increase with time with local municipalities unable to fund crucial projects.
Investing in waters stocks is a way to support the companies trying to solve the looming water crisis and proves to be a good investment.
And one financial expert agrees…
Which Water Stocks Is Michael Burry Buying?
In the movie "The Big Short," Christian Bale portrays Michael Burry, a hedge fund manager who made roughly $1 billion betting against the housing market in 2008.
At the end of the film, an update about Burry's life says, "Michael Burry is focusing all of his trading on one commodity: water."
Currently, it's unknown what, if any, water stocks Burry has purchased.
He could be purchasing water rights, investing in water-rich farmlands, or investing in water utilities.
But the fact that Burry was so successful in his housing market bet gives him credibility that he can recognize a profit opportunity everyone else is missing...
Will Water Stock Prices Rise in 2021?
No one has a crystal ball, and it's impossible to know for sure if water stock prices will go up in 2021.
But typically, in economic downturns, utilities like water outperform other investments. That is because people still need water and electricity while sheltered in their homes.
Again, it's impossible to know if water stocks will provide market-beating returns in 2021, and previous results are never indicative of future performance, especially during a pandemic.
But as we've seen over the last five years, buying the best water stocks can lead to massive gains.
And because Canada is considered a freshwater-rich country, our readers have asked if there are Canadian water stocks to buy…
Are There Canadian Water Stocks?
There are Canadian water stocks, but buying them isn't easy for U.S. investors.
Your broker has to have the ability to purchase shares of a company on international markets.
If they do, this is a list of some of the most well-known Canadian water stocks:
Canadian Utilities Ltd. (TSX: CU)
H20 Innovation Inc. (TSXV: HEO)
BluMetric Environmental Inc. (TSXV: BLM)
Pure Technologies (TSV: PUR)
If you can't access foreign investments, there are fortunately plenty of water stocks traded on major U.S. exchanges.
And yes, some of them do pay a dividend...
Are There Water Stocks with Dividends?
Many water companies reward shareholders with dividend payments.
Five of the most well-known include:
| | | | |
| --- | --- | --- | --- |
| Water Company | Ticker | Dividend | Yield |
| EcoLab Inc. | ECL | $1.88 | 0.95% |
| Aqua America | WTRG | $0.94 | 2.14% |
| Middlesex Water Co. | MSEX | $1.02 | 1.63% |
| American Water Works Co. Inc. | AWK | $2.20 | 1.75% |
| Consolidated Water Co. Ltd. | CWCO | $0.34 | 2.15% |
Aside from looking for dividends from water stocks, investors want to know more about how recent water stock IPOs have performed.
That's because IPOs are considered one way to get in on a ground-floor opportunity...
How Have Water Stock IPOs Performed Recently?
In today's current climate, it's challenging to find stocks that are performing well, but there are some to keep an eye out for.
American States Water (AWR) has seen recent increases making it one of the better water stocks to consider investing in. A 7.6% decrease year to date could have put the stock at a nice discount right now.
Of course, utilities vary, and just because one water stock goes up doesn't mean they all will. You never know when a new IPO may come on the scene.
If you haven't been purchasing water stocks in the past, there's still opportunity right now, giving you the chance to keep your portfolio strong even during a downturn.
The Best Water Stock to Buy in 2021
It may seem hard to imagine, but it's more important than ever to maintain a list of stocks to buy so you're ready on a moment's notice when a buying opportunity comes along.
Waiting for stocks to bottom out isn't necessary, as you'll still be purchasing water stocks while they are going down or rising back up.
As stocks eventually creep higher, you'll be in a great position.
Stocks like Xylem Inc. (NYSE: XYL) are worth watching, because they're a global player in the water market, across all aspects of the industry.
According to Money Morning Executive Editor Bill Patalon, Xylem is such a great play because it covers every stage of the water cycle with its five "growth sectors" of treatment, dewatering, transport, applied water systems, and analytics.
The company also offers data management, remote monitoring, and cloud-based analytics.
Xylem is based in New York, but it has operations and services that reach across Asia and Europe. In 2018, the company debuted a new service hub and pump rental operation in the Philippines, according to reports from TrenchLessInternational.com.
The Philippines have ongoing issues with tropical cyclones and heavy storms, and Xylem's new hub produces the flood-control equipment that is desperately needed throughout the country.
It will also sell dewatering services and pumps for the country's power-generation infrastructure and mining operations.
And with the international reach that Xylem has, other analysts are just as bullish about Xylem's future as Patalon...
Xylem trades for $105 right now, with an analyst target of $115. That's a solid 9% return for the year. And due to the nature of the product, it's likely to continue on a steady climb in the years to come.
The Complete List of Best (and Worst) Stocks for 2021
Wall Street insider Shah Gilani says 2021 could be a gold mine for Americans.
He's showing his subscribers exactly which stocks to buy and which to sell.
But you're getting it all for free – no sign-up or credit card required.
Prices, tickers, and company names will be coming your way fast.