This list shows the top-performing gold stocks this month, which we'll be watching in September 2017. While these stocks posted gains in August, we still aren't recommending them. Instead, we're going to show you Money Morning Resource Specialist Peter Krauth's pick for the best gold stock to buy this year…
| | | |
| --- | --- | --- |
| Top Gold Stock | Share Price | August 2017 Gain |
| Sibanye Gold Ltd. (NYSE ADR: SBGL) | $6.35 | +22.9% |
| Iamgold Corp. (NYSE: IAG) | $6.49 | +20% |
| Alamos Gold Inc. (NYSE: AGI) | $8.17 | +15.1% |
| Franco Nevada Corp. (NYSE: FNV) | $81.20 | +11.6% |
| Hudbay Minerals Inc. (NYSE: HBM) | $8.70 | +11.5% |
| Gold Fields Ltd. (NYSE ADR: GFI) | $4.42 | +10.9% |
| Randgold Resources Ltd. (Nasdaq ADR: GOLD) | $101.90 | +9.6% |
| Harmony Gold Mining Co. (NYSE ADR: HMY) | $1.97 | +8.8% |
| Agnico Eagle Mines Ltd. (NYSE: AEM) | $50.60 | +8.4% |
| Yamana Gold Inc. (NYSE: AUY) | $2.81 | +7.9% |
Life-Changing Profits: This investing strategy has racked up 30 triple-digit wins so far this year – and 46 in the last 12 months. To learn how to get in position for the next one, click here now…
Six of the 10 top gold stocks listed above have posted double-digit returns this month. The primary reason behind the rally has been a strong rebound in the gold price, which is up 3.9% from $1,267 on July 30 to $1,317 today (Friday, Aug. 31).
Prices have rallied mainly due to increasing threats between North Korea and the U.S.-Japan alliance, which led to North Korea launching a missile that flew over Japanese territory on Monday. This sent gold prices to an 11-month high of $1,319 on Tuesday.
Monday's test was considered the most serious of North Korea's 18 missile tests so far this year – serious enough to panic investors into buying more gold than usual…
Throughout the 11 missile tests since April 4, the price of gold has only seen an average gain of 0.1% the day after each test. But on Tuesday, gold climbed 1.1%. International crises tend to boost gold demand because investors buy it as a hedge against panicked stock market sell-offs. The Dow Jones opened 0.6% lower on Tuesday morning following the missile test.
Another factor fueling gold's August rally is the plunging U.S. dollar. Since gold is priced in dollars, a weaker dollar lets people using other currencies buy more of the metal, increasing demand. On Aug. 28, the U.S. Dollar Index (DXY) – which measures the dollar against other prominent currencies like the euro and yen – fell to its lowest level since January 2015.
And the dollar might not strengthen anytime soon. U.S. President Donald Trump seems intent on keeping it lower for longer, since he's repeatedly told the media he likes low interest rates and a lower dollar.
"Frankly, other than the fact that it sounds good, lots of bad things happen with a strong dollar," Trump told The Wall Street Journal on July 25. Since that date, the DXY is down 1.2%, from 94.05 to 92.95.
But Peter says a weak greenback could be bullish for today's gold stock pick…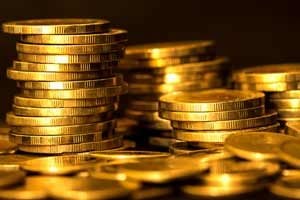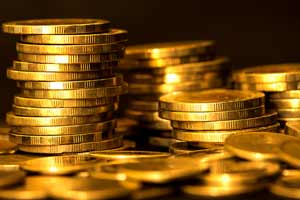 This firm is in the gold royalty/streaming sector, an industry that makes deals with gold miners to buy gold at a fixed price. These agreements give royalty and streaming companies – like today's pick – the upper hand because they're able to buy gold at a discount. And when gold prices rise, these companies profit by reselling the gold at a higher price.
Since gold prices usually rise from a weaker dollar, this puts these companies at an economic advantage over gold miners. Miners make contracts with streamers to hedge against gold prices falling. But if gold prices rise, streamers will profit from the higher gold price while miners are locked into their contract.
Peter also considers this company a strong income stock, which makes it an even better investment if you're saving for retirement. The company offers a quarterly dividend of $0.04 per share (1.14% yield). While that may not seem like much, it's above the average 0.75% yield of the entire gold industry.
"This company could be exactly what U.S. retirees are looking for to safeguard against the dangerous rising tide of inflation," Peter said on Aug. 23.
Here's his pick…
The Best Gold Stock to Buy for Passive Income from the Falling Dollar