Alibaba stock is down 3.8% in 2015, but there could be one catalyst tomorrow (Thursday) that could send the Alibaba stock price soaring.
That's because tomorrow before market open, Alibaba Group Holding Ltd. (NYSE: BABA) will release its second earnings report since going public. Analysts expect earnings per share (EPS) of $0.75 for the quarter ending December 2014. Revenue of $4.45 billion is expected..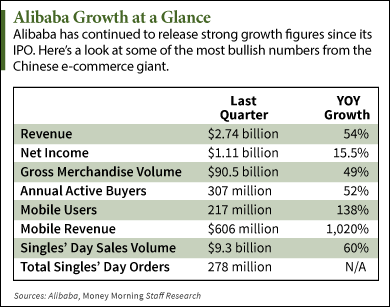 Alibaba's first post-IPO earnings release was Nov. 4. The company met analyst estimates with EPS of $0.45.
To hit the $0.75 EPS target Thursday, Alibaba would have had to see earnings grow by 66.7% in just one quarter. This quarter's revenue target is also high. Analysts predict a 62.4% jump from last quarter.
Analysts at S&P Capital IQ expect net income of $1.4 billion. That compares to $1.11 billion last quarter.
Another figure for BABA investors to watch is active buyers. Last quarter, BABA reported 307 million annual active buyers. That was a 52% increase from the previous year.
And don't be surprised to see a decline in gross profit margin. Last year, Alibaba's was 78%. Alibaba's big acquisitions last year could drive that down to 72.6%.
But those figures aren't the only things to watch in tomorrow's report. This is the biggest factor for BABA stock tomorrow…
Alibaba Stock Can Take Off on Mobile Growth
Mobile user growth is the biggest key in the Alibaba earnings report.
In November, Alibaba reported its mobile user base had grown to 217 million people. That was an increase of 138.5% from the year before.
Alibaba Group Holding Inc. (NYSE: BABA)
Recent Price: $100.30
Market Cap: $256.2 billion
Institutional Ownership: 16%
EPS Estimate: $0.75
Profit Margin: 46.3%
That mobile base spent a lot of cash. Last quarter, revenue from mobile users jumped more than 1,000% year over year. Mobile users now account for 35.8% of the company's total transaction volume.
Alibaba has spent heavily to strengthen its mobile base. In 2014, BABA spent $1.9 billion on the mobile web developer UCWeb. Then it spent $215 million for a minority stake in the messaging app Tango.
You see, the mobile market is growing at a staggering rate. Alibaba wants to be at the forefront of that growth.
"According to market researcher Gartner, the global market for mobile payments is projected to nearly triple – from $235 billion in 2013 to $720 billion by 2017," Money Morning's Executive Editor Bill Patalon said. "In the U.S. market every day there are more than 200 million credit card and debit card transactions – with American consumers spending $12 billion in the process."
Alibaba already has an 80% e-commerce market share in China. Now the company's focus has shifted to mobile.
Tomorrow's earnings will shed light on Alibaba's mobile progress, and we're expecting strong results. In fact, Alibaba stock is one of our favorites for 2015…
Alibaba Stock Is a Top Pick in 2015