The latest gold price news today (Thursday, June 1) shows the metal down 0.7% and trading at $1,267 per ounce. That erases most of yesterday's 0.8% gain to $1,275.
There's one important reason why gold prices are down today. The May jobs report indicated 253,000 jobs were added last month, which crushed expectations of 170,000. And that new development could impact whether or not the Federal Reserve raises interest rates again at the next FOMC meeting on June 13-14. This could consequently send the dollar higher and negatively affect gold prices.
Despite this bearish gold price news,
Money Morning
Resource Specialist Peter Krauth stands by his bullish gold price prediction. He believes the gold price will rally 10.5% from the current level to $1,400 by the end of the year thanks to the metal's falling supply, increasing demand, and attractiveness as a safe haven.
But our even bolder prediction concerns our gold stock recommendation. We think the long-term rise in gold prices could boost shares of this mining company by as much as 63.1% over the next year.
First, here's a closer look at the gold price news dragging down gold today...
This Gold Price News Is Pulling the Metal 0.7% Lower Today
The biggest reason why the metal is down today is the surge in private-sector hiring last month.
According to the payroll processor ADP LLC, job growth in the private sector - which includes all for-profit businesses that aren't operated or owned by the government - saw a sharp rebound in May. Employers added 253,000 jobs last month - up 45.4% from a six-month low of 174,000 in April. This smashed expectations of 170,000 new jobs.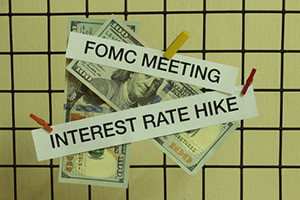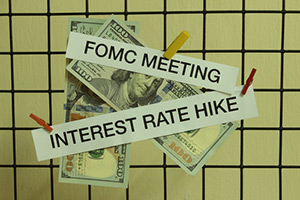 The May private jobs report is indirectly dragging gold lower today because the strong numbers all but confirm another rate hike at the conclusion of the June FOMC meeting. Strong jobs data often indicates a humming economy, which entices the Fed to raise interest rates to ensure the economy doesn't become overheated. According to the CME FedWatch Tool, the probability of a June rate hike is 95.8%.
The threat of higher interest rates usually boosts the value of the U.S. dollar, which often has a short-term negative effect on the gold price. A more valuable dollar reduces the price of dollar-denominated commodities like gold. That's because a higher dollar makes it more expensive for users of other currencies to buy gold, which effectively reduces demand.
Editor's Note: An incredibly rare gold anomaly is shaping up in the markets as we speak -- one that has occurred ONLY twice in the past 20 years. And it's about to happen again. Details here...
But we're confident that the gold price will rebound through the rest of the year, thanks to strong fundamentals like supply and demand...
According to data from the World Gold Council, global gold demand reached 1,034.5 tons in the first quarter. Meanwhile, global supply clocked in at only 1,032 tons. That shortage - combined with record demand in Europe, where investors purchased eight times more gold exchange-traded funds than U.S. investors - will push gold prices higher in 2017.
And for investors interested in buying gold stocks, we've found one of the best companies to invest in for long-term returns. In fact, shares of this globally dominant gold miner are expected to soar as high as 63.1% through May 2018.
Here's our pick...
The Best Gold Stock to Buy for a 63.1% Return in 12 Months
[mmpazkzone name="in-story" network="9794" site="307044" id="137008" type="4"]
We recommend Goldcorp Inc. (NYSE: GG) as one of the top gold stocks to own this year.
One of Money Morning Executive Editor Bill Patalon's longtime favorites, Goldcorp is a Canadian gold miner and dominant force among global gold producers. It has major gold mining operations throughout North, Central, and South America, and it also produces both copper and silver.
Goldcorp is a potential 63.1% profit play this year for two reasons: its production capacity and its efficiency...
Goldcorp has announced its intentions to boost the company's output of gold by as much as 20% over the next five years. They are doing this by ramping up production at existing operations and acquiring new mining projects.
In 2016, Goldcorp announced their acquisition of Kaminak Gold, which is the holder of the Yukon Territory's Coffee Gold Project. The new mining acquisition alone will allow the company to boost its production by as much as 2.2 million ounces annually.
Not to mention Goldcorp and Barrick Gold Corp. (NYSE: ABX) announced in March a joint venture on a large Chilean gold mine. The Cerro Casale mine is considered the world's most lucrative gold mine, and Goldcorp will now have a 50% stake in it.
The second reason we're bullish on GG stock is the company's mining efficiency. In Q1 2016, the company had an all-in sustaining cost (AISC) of $836. This year, they've reduced that number to $800, meaning they make a $467 profit on every ounce of gold sold at the current $1,267 market price.
And the Goldcorp profit margin will only get bigger if gold prices reach $1,400, per Krauth's 2017 forecast.
GG stock is trading at $13.49 today. According to Thomson Reuters analysts, the stock could rise to $22 per share by May 2018. That would be a huge 63.1% return for investors who buy in now.
Urgent: A completely unique gold play is forming in the markets. And it's so rare that it's only the third time in 20 years that it's happened. If you get in now, you could see a share of upwards of $13 billion in cash windfalls. Read more.
Follow Money Morning on Facebook, Twitter, and LinkedIn.