According to a March 29 Fortune report, meal delivery service Blue Apron hired investment bankers to launch a public offering in 2017.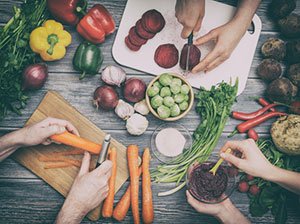 That means the Blue Apron IPO date could be just months away.
Right now, there are a lot of questions about the Blue Apron IPO. The company still isn't profitable (founded in 2012), and the meal delivery space in the United States is extremely competitive.
But TechCrunch had an interesting theory on why Blue Apron could be rushing an IPO: to attract acquisition offers.
The increasing competition is undoubtedly the biggest challenge for Blue Apron moving forward…
Sun Basket, another meal kit delivery service, just hired investment bankers in mid-March for IPO preparation. Sun Basket touts celebrity Justine Kelly (appeared on "Iron Chef America") as its executive chef and is racing towards a public offering despite being founded just three years ago.
HelloFresh, Plated, Home Chef, and Purple Carrot are also competitors to Blue Apron.
It's Simple – and Incredibly Profitable: This two-step investing strategy has uncovered more than 400 double- and triple-digit peak-gain winners. The next one's coming up soon – don't miss it. Learn more…
If Blue Apron ever wants to become profitable, the company may need to sell itself. The best strategy for CEO Matt Salzber and his management team is keeping their positions and having the resources of a larger business behind them.
Two companies that could have interest in Blue Apron are Wal-Mart Stores Inc. (NYSE: WMT) and PepsiCo Inc. (NYSE: PEP).
Walmart has expanded into online grocery pickup and delivery, which helps it keep up with online retailers. Pepsi has diversified itself with healthy offerings like probiotic drinks and juice smoothies, so Blue Apron would provide an even more diverse revenue source.
But there is one clear front-runner to acquire Blue Apron before the IPO…
After the Blue Apron IPO Date, This Company Could Swoop In