The Chipotle stock price rallied 3.4% yesterday (Tuesday) after shares plunged 12% last Friday. But the near-term outlook for Chipotle Mexican Grill Inc. (NYSE: CMG) stock is still in trouble…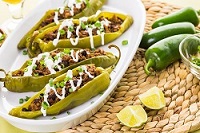 Chipotle announced Oct. 30 that it would close 43 stores in Portland and Washington state because of an E. coli outbreak. The company stated on Nov. 20 that the E. coli outbreak had spread to four additional states: New York, California, Ohio, and Minnesota.
The CMG stock price rallied back up to 4.50% Monday, closing the day at $559.29. Yesterday's 3.4% climb put the Chipotle stock price at $578.19.
Money Morning Technical Trading Specialist D.R. Barton said the stock was seeing a "rebound rally" following Friday's overreaction by buyers and sellers.
But that offers little solace for CMG shareholders who were previously riding the 52-week high price of $758.61 hit in August.
And looking ahead, there's not much reason to be optimistic about the Chipotle stock price in the near term.
Why the Chipotle Stock Price Will Drop More
The CMG stock price will still be extremely volatile over the next several months. Chipotle is unsure of the source of the outbreak, which means the company has no idea where the bacteria may have spread or how many additional people have been infected. Chipotle also has yet to identify a specific source for the outbreak.
According to
Reuters
, Maxim Group analyst Stephen Anderson expects more cases to be reported soon. Anderson also expects that the outbreak could hurt Chipotle's store traffic for the next several quarters.
But Barton did note a tiny piece of positive news for Chipotle on FOX Business. There have been no new outbreaks in the states where the first breakouts were reported.
Barton warns investors that the Chipotle stock price will be extremely volatile now and in the foreseeable future. "In the intermediate term, I don't like Chipotle," Barton stated, but said he still likes it long term.
The Chipotle E. coli outbreak is certainly disturbing, but unfortunately, it's not the first time this type of outbreak has occurred.