Tesla Motors Inc. (Nasdaq: TSLA) CEO Elon Musk teased via tweet Sunday he'd "end range anxiety" for Tesla Model S drivers in an announcement today (Thursday).
In other words, a new feature would do away with all-electric car drivers' greatest fear: running out of juice on a trip where there are no battery chargers nearby. It's a big reason why electric cars like Tesla's have not made much headway against autos with gasoline engines.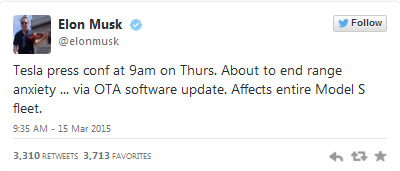 The Model S is already fantastic in terms of range compared to its electric competitors. Each of the four variations delivers ranges between 208 and 270 miles per charge, compared to competitors' 100 miles per charge.
Still, the news was well-received by investors - Tesla stock shot up 3.72% Monday.
But Elon Musk has been criticized in the past for failing to deliver on exactly these kinds of "teaser tweets."
Here's how the moonshot entrepreneur did today...
Elon Musk's Big Reveal
Musk announced two new features. They will both be delivered to Model S cars via an over-the-air (OTA) software update.
"Most cars don't improve over time," Musk said today. "But the Model S does get faster, smarter, and better as time passes. The car gets better as you sleep, when you wake up, it's like driving a new car."
PROFIT ALERT: 33 million units of wearable tech devices shipped in 2014. That number is expected to rise to 50 million this year. A select group of companies will rake in the dough. Here are the wearable tech companies to keep your eyes on...
The first of Musk's new Model S features is called Trip Planner, and it's aimed at optimizing long-distance trips.
Trip Planner integrates the supercharger network with Model S cars on the road. Drivers will automatically be able to locate the closest charging station. (Tesla is ever-expanding its network of supercharger stations. The stations provide free high-speed recharges to drivers for life.)
The second feature is called Range Assurance.
This is an app that communicates with Tesla cars' supercharger network and warns the driver in real-time about running out of range. The app then locates the closest supercharger and notifies the driver.
"It's a big network of Superchargers communicating with a big network of cars," Musk said. "This has never happened before."
Musk added that with Range Assurance, it's impossible to run out of range with the Model S unless "you do so intentionally."
Thirty minutes into the announcement, TSLA stock had fallen 1.5%, a sign investors are underwhelmed by the news.
Despite the market's reaction, we're not ready to call this a failure to deliver...
The Real Value in Tesla (TSLA) Stock
Musk's software update shows the entrepreneur is tuned in to the needs of his customers - a great sign for Tesla stock.
Even better for TSLA stock investors is Musk's ability to think past a product. In other words, the kind of technology Musk is working toward - fully automatic, driverless, non-gas-dependent cars - makes this company "a good long-term bet," according to Money Morning Chief Financial Strategist Keith Fitz-Gerald.
In an interview with FOX Business yesterday, Fitz-Gerald told viewers "there are three or four companies lurking inside Tesla."
Watch as Fitz-Gerald sizes up Elon Musk compared to highly-regarded Apple Inc. (Nasdaq: AAPL) founder Steve Jobs - and how investors should play TSLA stock right now:
Tara Clarke is an Associate Editor at Money Morning. You can follow her on Twitter @TaraKateClarke.
More on Tesla: TSLA stock has been very volatile in 2015. And the company's goal of mass-producing electric cars seems like a far-fetched dream. But there's more to Tesla than many investors realize. This is a risky stock, but one that could pay off in a big way...