Some analysts are concerned about a stock market crash coming this year thanks to one key indicator…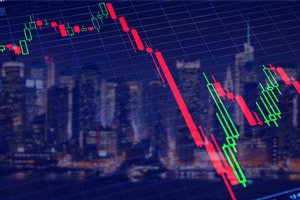 According to Business Insider, there is growing sentiment among investors and some Wall Street strategists that we are barreling toward a "rude awakening" in the stock market.
The reason? Low volatility…
A quantitative analyst at JPMorgan Chase & Co., Marko Kolanovic, told CNBC on July 27 that the current period of low volatility could be a sign of a stock market correction coming. And with stocks at record highs – the Dow closed at its all-time high three days in a row this week – a correction could spin into a market crash in 2017.
Today, we're going to break down why low volatility is considered a stock market crash warning sign by some, and we'll show our readers how to prepare for the worst-case scenario…
Is Low Volatility Really a Stock Market Crash Warning Sign?
Stock market volatility is measured by the CBOE Volatility Index (VIX), also called Wall Street's "fear gauge." The VIX is currently at 10.06, more than 20% below its historical average.
And while the VIX reached a low of 9.51 in July, it has trended steadily down over the last two years. The VIX was at 18.21 at the beginning of 2016. Falling volatility is typically seen as a good thing, especially when stock prices are high. It means traders aren't expecting any drastic swings in the market.
But Kolanivic says this is actually a warning sign.
The logic is that when volatility gets so low, it has nowhere to go but up. And because the stock market cycles between bull and bear markets, a historically low VIX could mean the trend is about to go in the other direction.
We don't buy that reasoning.
In reality, the Dow could continue to rise for years. Money Morning Capital Wave Strategist Shah Gilani recently told Fox Business Network's Stuart Varney that the Dow could conceivably hit 40,000 in just a few years. There could be pullbacks along the way, which are healthy parts of the stock market's cycle, but Shah isn't expecting a crash.
That's why we aren't making a stock market crash prediction.
But that's also not a good reason put off your preparation. Stocks could drop just as easily as they go up, and it could be unpredictable when it happens.
That's why it's a good idea to prepare for a stock market crash even if you don't expect one. And there's evidence that the Dow's record-breaking run isn't as good as it seems…
The Fed Could Put an End to This Bull Market
The Dow is up over 230% since March 2009, and it's currently at 22,250.91, its highest level ever. But two catalysts that helped boost the Dow are coming to an end.
First, the Fed's low interest rate era is ending.
After the 2008 stock market crash, the U.S. Federal Reserve cut rates from over 5% to 0.25%, the lowest interest rate ever. This made borrowing money cheap, and the Fed hoped businesses would use the easy loans to stay in business and expand, growing the economy out of the recession.
Now that the unemployment rate is down to 4.4%, down from 10% in 2009, and the economy is growing again, the Fed is raising rates.
The Fed has raised rates four times since 2015, and the current rate is 1.25%, over 1% for the first time since 2008. And the Fed is still planning to raise rates more. One more rate hike is expected this year.
That means borrowing costs will rise, and businesses will have less money to spend.
Second, businesses have used these cheap rates to boost their share prices.
Between 2009 and 2016, publicly traded companies took advantage of cheap borrowing costs to take out $1.9 trillion in loans. During the same period, they repurchased $2.1 trillion of their own stock shares, boosting prices.
Now that interest rates are rising again, these companies won't be able to afford share buybacks as easily as they did in the past. That could lead to stocks falling from their inflated heights.
But prepared investors can protect their money from even the worst-case scenarios, and it's always a good idea to have a plan. Here's how to protect your money with two of the most resilient stocks on the market…
These 2 Stocks Can Protect Your Money During a Stock Market Crash