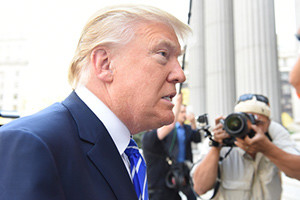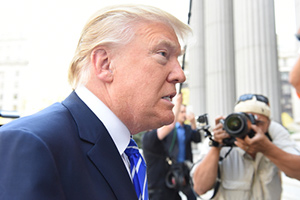 This morning, the Dow Jones Industrial Average is on the verge of opening at an all-time record high on Thursday as investors continue to weigh the policies and expectations of a Donald Trump presidency.
While the markets had expected great uncertainty with Trump and greater stability with a Clinton win, investors have been focusing on Trump's acceptance speech.
The president-elect has emphasized new infrastructure projects and other policies that could boost U.S. GDP growth.
On Wednesday, the Dow Jones surged 256 points after Donald Trump won the 2016 presidential election. It was a wild ride as markets stormed back from an 800-point deficit in the futures market the night before when Trump pulled ahead in electoral votes.
Wednesday's Stock Market Numbers:
Dow Jones: 18,589.69; 256.95; 1.40%
S&P 500: 2,163.26; 23.70; 1.11%
Nasdaq: 5,251.07; 57.58; 1.11%
Now, here's a look at today's most important market events and stocks, plus a look at Thursday's economic calendar.
What's Ahead for the Dow Jones Industrial Average Today
The Dow Jones Industrial Average projected a 95-point gain and a new record open. With so much emphasis on Trump's policies, industrials and infrastructure stocks are pushing the Dow higher. In addition, the expectation of increased inflation is pushing both bank stocks and bond yields higher.
Special Report: Cannabis Is the Gold Rush of the 21st Century - 30 Stocks to Invest in Now. Read More...
On the data front, 256,000 Americans sought unemployment benefits last week. That's less than the 260,000 that economists had projected. Markets will continue to keep a close eye on the labor market moving forward as the probability of a December rate hike remains high.
According to a poll conducted today by Reuters, economists anticipate that the Federal Reserve will hike interest rates in December. Such speculation helped push financial stocks higher on the day. Still, uncertainty is expected in the months ahead, which means that investors need a plan in order to profit from a Trump presidency.
Money MorningTechnical Trading Specialist D.R. Barton predicts when the Fed will raise interest rates - and how investors can prepare.
After Trump's dramatic Election Day upset, markets are trying to determine how a Trump presidency is affecting oil prices today. Trump claims he will make the United States energy independent and help bolster growth in our energy sector. Here's a breakdown of Trump's energy policies and how it affects global supply and prices.
Don't Miss: Get the Best Investing Research Today to Grow Your Money
The WTI crude oil price today slipped 1.1%, while the Brent crude oil price dipped 0.5%. The downturn today comes as investors eye the possibility of increased production in the United States, higher domestic crude inventories, and that OPEC's production deal collapses later this month.
Stocks to Watch Today, Nov. 10, 2016
Today's U.S. Economic Calendar (all times EST)
Jobless Claims at 8:30 a.m.
St. Louis Federal Reserve President James Bullard speaks at 9:15 a.m.
Bloomberg Consumer Comfort Index at 9:45 a.m.
EIA Natural Gas Report at 10:30 a.m.
3-Month Bill Announcement at 11 a.m.
6-Month Bill Announcement at 11 a.m.
10-Year TIPS Announcement at 11 a.m.
30-Year Bond Auction at 1 p.m.
Treasury Budget at 2 p.m.
Fed Balance Sheet at 4:30 p.m.
Money Supply at 4:30 p.m.
Up Next: How to Make a Killing... When Everyone Else Is Panicking
Follow Money Morning on Facebook and Twitter.