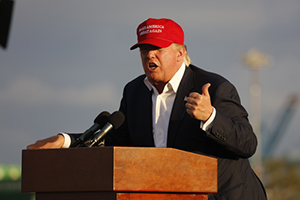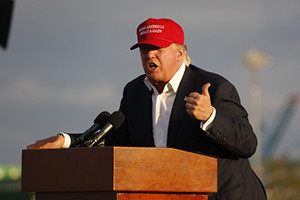 This morning, the Dow Jones Industrial Average is sliding in pre-market hours as it appears the market rally is set to take some time off.
Ongoing demonstrations against Donald Trump in several U.S. cities has some investors concerned about the stability and security of the country following the election. However, retail stocks continue to surge after the election and another round of positive earnings reports.
Today is Veterans Day. While the U.S. markets are open, many public schools, banks, and government offices will be closed until Monday.
On Thursday, the Dow Jones surged another 218 points to an all-time closing high after investors erased concerns about Donald Trump's presidential election victory. The market swing is reminiscent of the sharp downturn and strong rebound of the global markets after Britain voted in June to leave the European Union.
With markets on a strong run, our readers are now asking us, "What are the best stocks to buy when Trump is president?" [Editor's Note: We outline three must-own defense stocks, here.]
Thursday's Stock Market Numbers:
Dow Jones: 18,807.88; 218.19; 1.17%
S&P 500: 2,167.48; 4.22; 0.20%
Nasdaq: 5,208.80; -42.28; -0.81%
Now, here's a look at today's most important market events and stocks, plus a look at Friday's economic calendar.
What's Ahead for the Dow Jones Industrial Average Today
The Dow Jones Industrial Average projected a 28-point decline as financial stocks finally pulled back from the rallying following the election of Donald Trump.
Don't Miss: Get the Best Investing Research Today to Grow Your Money
The price of oil is falling again today as investors worry about the return of a massive global supply glut. Traders are concerned that OPEC may not be able to corral its members into agreeing to cap production during its Nov. 30 meeting in Vienna, Austria. The markets will also be keeping a close eye on the Baker Hughes rig count, which measures the number of active oil and gas platforms in the United States. An increase in rigs signals an increase in domestic production.
The WTI crude oil price today slipped 1.3%, while the Brent crude oil price dipped 1.5%.
After Trump's dramatic Election Day upset, markets are trying to determine how a Trump presidency is affecting oil prices today. Trump claims he will make the United States energy independent and help bolster growth. How will he do it? Here's a breakdown of Trump's energy policies and how it affects global supply and prices.
Special Report: Cannabis Is the Gold Rush of the 21st Century – 30 Stocks to Invest in Now. Read More…
The story that isn't receiving enough attention today is happening at the Federal Reserve. Following Trump's surprise victory, investors are looking to the U.S. central bank for clues into the timing of the next interest rate hike. Today, watch for comments from Federal Reserve Vice Chair Stanley Fischer, who is giving a speech on the health of the global economy.
Money Morning's Technical Trading Specialist D.R. Barton predicts when the Fed will raise interest rates – and how investors can prepare.
Stocks to Watch Today, Nov. 11, 2016
Today's U.S. Economic Calendar (all times EST)
Consumer Sentiment at 10 a.m.
Stanley Fischer speaks at 11 a.m.
Baker Hughes Rig Count at 1 p.m
Up Next: The Subprime Auto Loan Market Is About to Collapse – Here's How to Profit
Follow Money Morning on Facebook and Twitter.