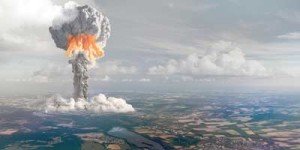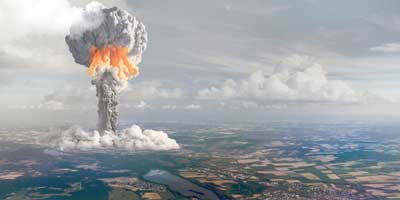 In Dow Jones news, the Dow fell 138 points Thursday after the United States dropped the largest non-nuclear bomb ever in Afghanistan to target ISIS.
Let's look at the numbers from Thursday for the Dow, S&P 500, and Nasdaq:
Dow Jones: 20,453.25; -138.61; (-0.67%)
S&P 500: 2,328.95; -15.98; (-0.68%)
Nasdaq: 5,805.15; -31.01; (-0.53%)
Today's market highlights:
The U.S. Air Force dropped a 21,600-pound bomb in Afghanistan called the "Mother of All Bombs."
Shares of Wells Fargo & Co. (NYSE: WFC) dropped 3.3% after announcing a decline in mortgage banking revenue.
Gold and silver prices continued to push higher on geopolitical concerns.
Now, here's a look at today's most important market events and stocks, plus a preview of Friday's economic calendar. Although banks will be open tomorrow, U.S. markets will be closed in observance of Good Friday.
DJIA Today: Dow Slides as Geopolitical Uncertainty Continues to Rattle Investors
The Dow Jones dropped triple digits after the U.S. military stirred geopolitical uncertainties with its mega-bomb launch. Markets had already been on edge due to increasing concerns about the stability of global order over Syria and North Korea. With other geopolitical problems accelerating around the globe, many investors are asking the same question: Is the next stock market crash on the horizon? That's why we want our readers to be prepared if there is a stock market crash in April. Here are the factors that you must know about, plus our 2017 Stock Market Crash Protection Plan.
Energy Breakthrough: One gallon of this new "crystal fuel" could get you from New York to L.A. and back... seven times! Read more...
Gold prices and silver prices both pushed higher, adding another 0.8% and 1.04%, respectively. Precious metals ticked higher thanks to ongoing geopolitical uncertainty. The dollar also climbed a bit higher, reversing some of its losses from the previous session when President Donald Trump raised concerns about the greenback's strength.
Crude oil prices were largely unchanged. WTI crude oil fell by 0.15%, while Brent crude dropped by 0.18%. Markets continue to monitor U.S. inventory levels and OPEC's commitment to curbing excessive supply.
Trending: Before President Trump's Wall Is Built, These Are Five Stocks to Watch
But one of the biggest stories today is the 105th birthday of North Korea's founding father, Kim Il-sung. This Saturday, the nation will likely celebrate the holiday by pulling explosive weapons from its arms chest. And some are worried that we could see North Korea's nuclear test capabilities on display just two days from now. Money Morning breaks down just how concerned Washington, D.C., is right now about North Korea's nuclear program. In fact, Executive Editor Bill Patalon recently talked about how President Donald Trump expects to deal with the rogue nation. Plus, we offer insight into a $6.00 stock that could see huge gains as the geopolitical battle heats up in the Pacific. Check it out, right here.
Stock Market News and Top Stocks to Watch Today: April 13, 2017
Video
Stock Talks with Bill Patalon
Friday's U.S. Economic Calendar (all times EDT)
Banks are open Friday, but the U.S. markets are closed.
Consumer Price Index at 8:30 a.m.
Retail Sales at 8:30 a.m.
Business Inventories at 10 a.m.
Must Read: Five Double-Digit Dividend Plays to Secure Your "Second Salary"
Follow Money Morning on Twitter @moneymorning, Facebook, and LinkedIn.