The Dow Jones news for Thursday (April 20) is stock futures bouncing back this morning after yesterday's triple-digit drop.
Let's look at the numbers from Wednesday for the Dow, S&P 500, and Nasdaq:
Dow Jones: 20,404.49; -118.79; -0.58%
S&P 500: 2,338.17; -4.02;-0.17%
Nasdaq: 5,863.03; +13.56; +0.23%
Today's market highlights:
Markets continue to react to mixed earnings reports and increased geopolitical uncertainty around the globe.
On Wednesday, the Dow fell 118 points thanks to a sharp downturn in crude oil prices, ongoing geopolitical tensions, and dismal earnings from International Business Machines Corp. (NYSE: IBM). The downturn in Big Blue stock offset big gains reported by Morgan Stanley (NYSE: MS).
Venezuela joins the list of geopolitical hotspots after nationalizing an American icon's manufacturing plant amid citizens taking to the streets.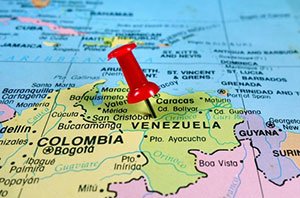 Sign up for SMS so you never miss special events, exclusive offers, and weekly bonus trades.

Oil prices are rebounding after their largest one-day decline in months.
Exxon Mobil Corp. (NYSE: XOM) is generating negative buzz on rumors that the company is seeking a waiver from the Treasury Department to sidestep Russian sanctions rules and restart operations with a state-owned company.
Urgent: Saudi Arabia's $100 Billion Plan to End Big Oil
Here's a look at today's most important market events and stocks, plus a look at Thursday's economic calendar.
What's Ahead for the Dow Jones Industrial Average Today
The Dow projected a 30-point gain as investors prepare for another busy day of earnings reports and economic data. This morning, the U.S. Labor Department will report weekly jobless claims. Economists expect Americans seeking weekly unemployment benefits rose to 242,000.
France will hold the first round of its presidential election on Sunday. The twists and turns of France's presidential election are creating a great deal of uncertainty around the nation's future. Money Morning Capital Wave Strategist Shah Gilani shares his insights, right here.
While Syria and North Korea have generated the bulk of geopolitical concerns around the globe, it's time to add Venezuela to the list of problems. Last night, General Motors Inc. (NYSE: GM) said Venezuelan authorities have illegally seized a production plant in the city of Valencia. Venezuela's auto industry has been crushed by a lack of raw materials, currency controls, and weak production. Ford Motor Co. (NYSE: F) has already written off its investments in Venezuela due to its economic challenges.
Video
Why Ford Is the Top Stock to Buy This Year
Crude oil prices are rebounding from yesterday's big decline. The decline came after the Energy Information Administration (EIA) reported that domestic inventories had a smaller than expected decline last week. At the same time, U.S. shale production increased. Those two factors offset optimism that OPEC is prepared to extend its deal to cap excessive production.
The WTI crude oil price today is down 0.3%, while Brent crude fell 0.04%.
But the big story today is the inability of President Donald Trump to get his plan for massive corporate tax cuts in motion. The Trump administration and Republicans in Congress may not be able to get tax reform passed by August, raising new concerns about the sustainability of the market's recent rally. But there is one plan that could replace the broader tax reform proposed by Trump during the campaign season. It's a process known as "repatriation" of foreign dollars. And if that happens, one of our favorite companies would bring home a massive cash trove - roughly $200 billion - and that would bring a huge haul to investors. Read all about this company, right here.
Stocks to Watch Today, April 20, 2017:
Shares of Twenty-First Century Fox Inc. (Nasdaq: FOXA) are generating buzz after CNN and other media outlets reported famed broadcaster Bill O'Reilly is no longer employed by FOX News. O'Reilly has been embroiled in a series of sexual harassment cases. This would be another popular anchor departing the network in a year. Recently, Megyn Kelly left FOX News for NBC, which is owned by Comcast Corp. (Nasdaq: CMCSA).
Trending: The Best Stocks to Buy (and When to Sell) for Mega-Profits in 2017
Today's U.S. Economic Calendar (all times EDT)
Federal Reserve Governor Jerome Powell speaks at 8 a.m.
Jobless Claims at 8:30 a.m.
Philadelphia Fed Business Outlook Survey at 8:30 a.m.
Bloomberg Consumer Comfort Index at 9:45 a.m.
Leading Indicators at 10 a.m.
EIA Natural Gas Report at 10:30 a.m.
Three-Month Bill Announcement at 11 a.m.
Six-Month Bill Announcement at 11 a.m.
52-Week Bill Announcement at 11 a.m.
Two-Year FRN Note Announcement at 11 a.m.
Two-Year Note Announcement at 11 a.m.
Five-Year Note Announcement at 11 a.m.
Seven-Year Note Announcement at 11 a.m.
Five-Year TIPS Auction at 1 p.m.
Fed Balance Sheet at 4:30 p.m.
Money Supply at 4:30 p.m.
Up Next: China Readies Itself for Global Trade War with U.S. and WTO
Follow Money Morning on Facebook and Twitter.