The Dow Jones news today features the beginning of Brexit negotiations in Europe. Dow Jones futures are up 70 points ahead of the bell despite tensions rising across the globe after a U.S. jet shot down a Syrian warplane.
Here are the numbers from Friday for the Dow, S&P 500, and Nasdaq:
| | | | |
| --- | --- | --- | --- |
| Index | Previous Close | Point Change | Percentage Change |
| Dow Jones | 21,373.02 | +13.12 | +0.05% |
| S&P 500 | 2,431.30 | -1.16 | -0.05% |
| Nasdaq | 6,155.81 | -9.69 | -0.16% |
Energy Breakthrough: One gallon of this new "crystal fuel" could get you from New York to L.A. and back… seven times! Read more…
Now here's a closer look at today's most important market events and stocks, plus Monday's economic calendar.
The Five Top Stock Market Stories for Monday
This week features a heavy schedule of speeches by members of the U.S. Federal Reserve. Last week, the U.S. central bank raised interest rates for the third time in seven months and cited improvements in the American economy and job market as justification for their decision. Today, Federal Reserve Bank of New York President William Dudley will speak in Plattsburgh, N.Y., and will likely discuss the central bank's soft attitude toward inflation figures before the rate hike. Meanwhile, Chicago Fed President Charles Evans will speak on monetary policy at New York University.
Video
How the Markets Reacted to the UK Election
The price of Bitcoin has been on a roller coaster. Last week, the Bitcoin prices reached a new all-time high of $3,025.47 before stumbling. A lot of favorable media attention on Bitcoin's big gains in 2017 – it was up more than 200% on the year before dropping – was driving interest, helping to pull new money into the digital currency. The surge in new initial coin offerings (ICOs), cryptocurrency tokens sold by blockchain-based startups, has also helped drive the price of Bitcoin in recent weeks. Where is the price of Bitcoin going in the future? Here's what's moving the Bitcoin price, and why….
Crude oil prices are trying to rebound from four consecutive weeks of downturns due to lofty supply levels around the globe. The WTI crude oil price today added 0.2%. Brent crude added 0.4%. Crude is hovering near a seven-month low due to rising production levels in Nigeria, Libya, and the United States. This rising production has magnified concerns that OPEC's deal through March 2018 may not be enough to support global prices and alleviate a global glut in crude.
Keep an eye on Boeing Co. (NYSE: BA) and Airbus SAS (OTC MKTS: EADSY). The Paris Air Show this week allows companies in the aviation business to display new products and negotiate contracts with airline firms and foreign governments. This morning, Boeing unveiled a new model of its popular 737 jet and announced it has received at least 240 orders for the new plane. BA stock was up 0.8% in premarket hours.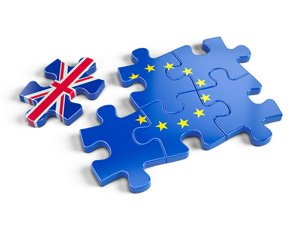 Finally, be prepared for a lot of speculation over the United Kingdom's departure from the European Union. The nation's Brexit secretary travels to Brussels, Belgium, where the EU is headquartered to begin structuring a deal for the nation's exit from the world's largest economic block. The negotiations come two weeks after UK Prime Minister Theresa May's Conservative Party lost its majority in Parliament.
Four Stocks to Watch Today: WFM, WMT, GE, CUBA
Shares of Whole Foods Market Inc. (NYSE: WFM) are in focus after the company announced a deal to sell itself to Amazon.com Inc. (Nasdaq: AMZN) for $13.7 billion in revenue. Over the weekend, several banks and financial publications said that the deal may not be finalized. Some investors are speculating that a bidding war could explode over Whole Foods. AMZN stock was up nearly 1% in premarket hours.
While the Amazon-Whole Foods deal dominated the headlines Friday, another major deal has American consumers angry. Men's fashion startup Bonobos sold itself to Wal-Mart Stores Inc. (NYSE: WMT) for $310 million, a deal that will help the latter bolster its fashion presence in the e-commerce world. However, millennials have revolted against the deal.
Shares of General Electric Co. (NYSE: GE) are pushing higher after Barron's wrote over the weekend that the stock could rise as much as 15% with new CEO John Flannery set to replace Jeffrey Immelt. Money Morning Executive Editor Bill Patalon beat Barron's to the punch last week and told our readers that it's more than just a change of leadership that will lead GE stock higher. Be sure to read Bill's latest insight right here.
It's going to be a rough day for investors in the Herzfeld Caribbean Basin Fund Inc. (Nasdaq: CUBA). Over the weekend, President Donald Trump announced that his administration was reinstating American travel and commercial restrictions on Cuba. The decision reverses actions by the Obama administration to engage with Cuba leaders. Expect airline and other travel companies like cruise lines to experience choppy trading on Monday.
Monday's U.S. Economic Calendar (all times EDT)
New York Federal Reserve Bank President William Dudley speaks at 8 a.m.
Four-Week Bill Announcement at 11 a.m.
Three-Month Bill Auction at 11:30 a.m.
Six-Month Bill Auction at 11:30 a.m.
Chicago Federal Reserve Bank President Charles Evans speaks at 7 p.m.
Up Next: The Four Best Silver Investments This Year (and Why You Need Them in Your Portfolio Today)
Follow Money Morning on Facebook, Twitter, and LinkedIn.