The Dow Jones news today will focus on a major policy announcement from the Trump administration on his tax plan.
Let's look at the numbers from Monday for the Dow, S&P 500, and Nasdaq:
Dow Jones: 20,763.89; +216.13; +1.05%
S&P 500: 2,374.15; +25.46;+1.08%
Nasdaq: 5,983.82; +73.30; +1.24%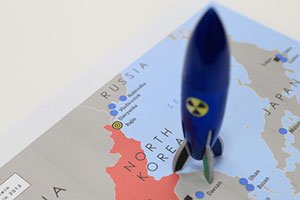 Today's market highlights:
Markets are anticipating a major tax reform plan that would drop the corporate tax rate from 35% to 15%.
On Monday, the Dow rose more than 200 points after investors cheered the results of the first round of the French presidential election. Reports said the VIX, which measures stock market volatility, dropped by 26% on Monday, which is the largest one-day drop in six years.
Shares of Caterpillar Inc. (NYSE: CAT) rallied more than 6% after a huge profit announcement. Meanwhile, McDonald's Corp. (NYSE: MCD) easily topped Wall Street earnings expectations.
The showdown between the United States and North Korea could get ugly as soon as today. We explain how investors should protect their profits and principal below.
Don't Miss: Trump's Secret Weapon Set to Foil China's Master Plan
Here's a look at today's most important market events and stocks, plus a look at Tuesday's economic calendar.
What's Ahead for the Dow Jones Industrial Average Today
The Dow Jones projected a 161-point gain in pre-market hours thanks to a huge earnings report from Caterpillar Inc. (NYSE: CAT) and increased optimism over earnings season. CAT stock rallied more than 6.4% after reporting earnings per share of $1.28, a figure that was more than double what Wall Street analysts expected. The company also hiked its quarterly outlook, a sign the company expecting greater demand in the global construction industry.
Geopolitical tensions continue to swell as U.S. strikes on North Korea could happen this week. The move would be retaliatory - and only under the most extreme of circumstances - but Pyongyang is expected to test yet another missile any day now. Investors must be prepared for the unthinkable to happen.
That's why Money Morning Chief Investment Strategist Keith Fitz-Gerald is preparing our readers this week. "If North Korea hit one of its neighbors, there would be panic-selling on a scale that no one's ever experienced," Fitz-Gerald predicts. "Depending on how 'containable' the damage is." For example, "if the damage is containable," Fitz-Gerald says, "a clinical term even if there are millions of casualties - the markets will bottom quickly albeit probably at least 5% to 10% lower.
If the damage is "uncontainable," however, Fitz-Gerald recommends investors consider the following two plays to ride out the global chaos in order to survive financially...
Trending: Will the Stock Market Crash Soon?
Crude oil prices were flat, a sign that the commodity could break a six-day losing streak Tuesday. Markets remain skeptical that OPEC producers will extend their deal to reduce excessive global output at a time that U.S. production and inventory levels are on the rise.
The WTI crude oil price today added 0.1%, while Brent crude gained 0.1%.
But the big story today is the possibility of a government shutdown later this week. With Congress returning from recess, leaders have just a few days to piece together a deal that would prevent the government from having to close its doors and failing to pay its bills. On Monday, congressional leaders reported no progress in a deal. Democrats are opposed to President Trump's demands that any spending bill includes funding for a wall along the Mexican border. Check out our latest insight on the possibility of a shutdown and what it means for your money. Read it all, right here.
Stocks to Watch Today, April 25, 2017:
Video
The Ultimate "Rocky" Stock
Today's U.S. Economic Calendar (all times EDT)
Redbook at 8:55 a.m.
FHFA House Price Index at 9 a.m.
S&P Corelogic Case-Shiller HPI at 9 a.m.
New Home Sales at 10 a.m.
Consumer Confidence at 10 a.m.
Richmond Fed Manufacturing Index at 10 a.m.
State Street Investor Confidence Index at 10 a.m.
Four-Week Bill Auction at 11:30 a.m.
52-Week Bill Auction at 11:30 a.m.
Two-Year Note Auction at 1 p.m.
Must Read: Five Double-Digit Dividend Plays to Secure Your "Second Salary"
Follow Money Morning on Twitter @moneymorning, Facebook, and LinkedIn.