The trading on Friday, Dec. 1, started off with "business as usual."
The grinding bull had been moving sideways, because the markets had Senate tax reform progress "baked in" for the past few "up" days. Still, the prospects were looking good, and most market watchers were anticipating a move higher.
Then I saw the major indexes start to tank.
A quick check of my fastest news feeds gave the answer: ABC News was reporting that former national security adviser Michael Flynn was prepared to say that President Trump "directed him to reach out to Russian officials during the campaign."
The market continued to drop.
And – snap! Just like that, we were in the grip of a very profitable extreme – one that's only poured fuel on my favorite December recommendation…
These Drops Are Really Big Opportunities
Buyers tried to come back out, but the drop resumed after a small, five- to seven-minute retracement: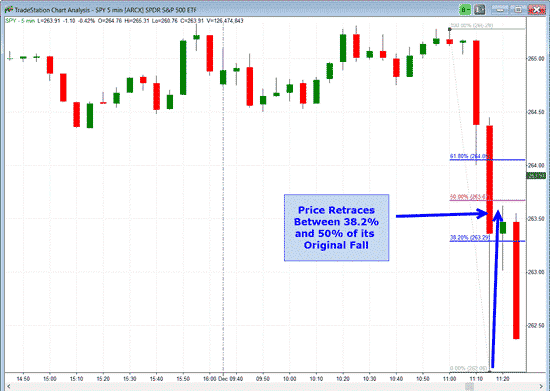 After this move, the drop accelerated as other news outlets picked up on the story.
By about 11:40, there was a growing sentiment that that ABC News story was unsubstantiated.
Michael Flynn had plead guilty to charges of lying the FBI, to be sure, but ABC's report that, at Trump's request, Flynn had reached out to the Russians "during the campaign," was looking like so much "fake news."
What's in this book helped one reader make $185k in eight days. Click here to read on…
(Indeed, ABC issued a correction later noting that Trump had requested Flynn open talks with the Russians during the post-election transition, rather than during the campaign.)
The markets moved on this sentiment; they started to rebound and then head sideways for a couple of five-minute bars.
Friday now, I was looking for confirmation that the emotionally driven extreme had played out.