With the news this week that General Electric Co. (NYSE: GE) CEO Jeff Immelt is stepping down from his post, the company is back under the microscope. The market is still getting comfortable with the plans and abilities of incoming CEO John Flannery, officially slated to begin Aug. 1.
Fortunately for Money Morning readers, Money Morning Executive Editor Bill Patalon is already comfortable with the stock. In fact, he has been bullish on GE stock for years and still is today.
While CEO uncertainty can panic some investors, new CEO John Flannery's record will only help GE. He boasts a 30-year career at the company, heading international offices across the globe. More importantly, he successfully turned the company's $18 billion healthcare division around.
GE stock jumped 3% June 12 after the succession news as Wall Street showed early confidence that Flannery will be able to wake up the company's languishing stock price.
In recent years, shares of GE have stagnated, rising up just 6.8% in the last three years. That sparked investor discontent and even prompted an activist hedge fund to make some noise. Nelson Peltz of Trian Partners took a stake in October 2015. Perhaps that sped up the change of executive leadership at the top...
A Blue-Chip Stock for the Long Term
GE has a long history of making moves. In the 1990s, it went on an acquisition spree, gobbling up many small companies, that barely made a dent in its petty cash hoard. The theory was that one or two were bound to pay off big.
After the financial crisis of 2008, the company's Financial Services division was dinged thanks to the credit default swaps fiasco. Though the company's own finances were damaged, Patalon knew it would bounce back. After all, it had done so time after time before.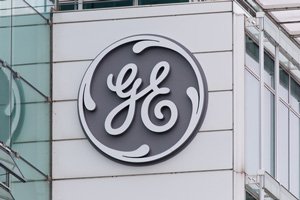 Think about this: General Electric is the only remaining original member of the original Dow Jones Industrial Average, the market's benchmark index created more than century ago.
Today, GE is thought of as an industrial stock in rather sedate businesses. It does not make social media apps, so by today's standards it is not a sexy stock.
But Patalon says it is a massively overlooked stock. And overlooked stocks with a story are usually the best investments.
BREAKING: New Legislation Could Turn Tiny Pot Stocks into Millions. Click here...
Why is GE going to make investors big profits? Because of its Predix product, a cloud-based, super Internet software. The company is on a mission to be one of the top 10 software companies in America in just a few years.
And that should be the biggest catalyst for GE stock in the next several years...
This Is an Excellent Buying Opportunity for General Electric Stock
[mmpazkzone name="in-story" network="9794" site="307044" id="137008" type="4"]
You may have read a lot about the Internet of Things (IoT) and a future of 50 billion connected devices around the globe. They run the gamut from sensors in clothing to monitors in aircraft engines, and from locomotives pulling the freight cars to equipment on the factory floor.
All of these devices create data and information, but it's only useful if it can be analyzed and cataloged to really give users the best insights into how a business is operating. Predix is the software that is going to make that happen.
The company expects Predix to do for factories and plants what Apple's iOS did for cell phones. Business solution-provider Pitney Bowes Inc. (NYSE: PBI) said, "Industrial challenges require the global real-time Big Data analytics provided by the GE Predix platform."
GE is already making the new industrial Internet a reality. Recently, it bought the power-generation business of France's Alstom. That acquisition now means that GE accounts for one-third of all the power-generating capacity in the world.
Predix will give operators the ability to monitor turbines and grids to be sure things are going smoothly and identify problems before they become critical.
The product is going to be in demand by many other industrial companies, as well. In fact, oil giant BP Plc. (NYSE ADR: BP) recently adopted Predix to monitor its offshore drilling platforms. We can only imagine the countless dollars saved and lives impacted if BP had Predix in place in 2010 before the infamous Deepwater Horizon disaster in the Gulf of Mexico. They might have known something was going to go wrong and would have been able to take steps to correct problems before it all happened.
That's how powerful this software is going to be.
This past November, GE announced its software and services business was on track to do $6 billion in revenue in 2016 - 20% higher than in 2015, putting GE on track to hit its goal of $15 billion in annual revenue by 2020.
How can you profit from all of this? Patalon suggests buying shares of GE in what he calls an "accumulate strategy." Buy a block of stock so you're in it and will make money if it goes up in price. And if there is a pullback or a sell-off, look to buy more.
If you have extra investment money, buy more every time it pulls back. This is a stock that is going to make you a lot of money over the long term, so plan to hold it for at least five years.
Up Next: The Best Stocks to Buy (and When to Sell) for Mega-Profits in 2017