General Electric Co. (NYSE: GE) is experiencing some serious management turbulence.
In addition to the exit of CFO Jeffrey Bornstein and three vice chairs on Friday (Oct. 7), GE just announced the retirement of key board member Robert Lane.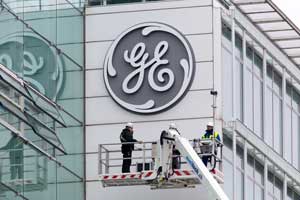 Lane, who was previously chair and CEO of Deere & Co. (NYSE: DE), had held the board seat at GE for 12 years. He will be replaced by Trian Fund founding partner Ed Garden. Trian owns about 1% of the company.
Analysts are growing increasingly concerned about the health of the 125-year-old company.
JPMorgan is calling the executive departures a "clear negative."
"Things are getting worse instead of better," said Aparna Narayanan of Investor's Business Daily.
GE shares continue to act poorly following the moves, down 5.62% since Friday.
The recent performance has even prompted Money Morning Executive Editor - and long-time GE advocate - Bill Patalon to take a step back.
"I'm not recommending any action at the moment," said Bill.
"I'll regain faith in the company only if CEO John Flannery refocuses his efforts on this key component of GE's business..."
Flannery Needs to Switch Gears
Flannery is under significant pressure to deliver results - fast - after eight straight months of share declines. He's even gone as far as to announce cutting corporate jets and cars as part of a plan to trim $2 billion in costs by the end of 2018.
Sign up for SMS so you never miss special events, exclusive offers, and weekly bonus trades.
But focusing solely on the bottom line and cost-cutting can only be a short-term strategy.
You can't cost-cut your way to greatness. You have to have growth.
So while Flannery's significant housecleaning might be his way of proving he's making progress lowering the bottom line, it won't be enough to sustain GE long term.
Luckily for GE, it already has the secret weapon it needs to thrive...
We're talking about Predix.
Special Report: Cannabis Is the Gold Rush of the 21st Century - 30 Stocks to Invest in Now. Details Here...
Predix is GE's revolutionary "Internet of Things" software platform. And it is the company's only shot at redemption.
Predix connects equipment like wind turbines and elevators to computers that can predict failures and reduce operating costs. Predix can detect a malfunction before it happens, saving a huge company like GE time and potentially billions in repair costs.
Not only does Predix benefit GE's internal operations, but it could also be an invaluable tool for other big-name companies.
"Imagine if Predix software technology was available during the whole Deepwater Horizon disaster," said Bill. "The whole thing could've been avoided."
Bill told his Private Briefing readers about Predix this time last year, back when the software was still in its early developmental stages.
"Predix is going to be the software that propels GE into one of the leading software companies of the future," he said then.
But now, he's concerned Flannery has put Predix on the backburner - a grave mistake.
"All this new data is being created, but harvesting that data and putting it to use is not happening fast enough," said Bill.
"If GE wants to get out of this rut, it needs to put more time and energy into this platform - before someone else does."
Editor's Note: Never miss a single moneymaking update from Bill Patalon again. Sign up to receive free, timely profit alerts straight to your inbox, here.
So, for now, Bill is putting GE on pause.
"I'm taking a wait-and-see approach this time," said Bill. "I want to see what Flannery decides to do with Predix first."
"It's a new game now. It's a new referee. I want to see how he's going to call things," said Bill.
GE is just one of the dozens of companies Bill is analyzing for his Private Briefing subscribers. He's our champion stock picker here at Money Morning - and for good reason.
To date, his subscribers have seen over 2,000% peak gains - and counting...
Right now, he's looking at what could be a once-in-a-lifetime opportunity. He's only seen it twice in the past 20 years. It's very rare, and fleeting, and Bill sees things lining up perfectly to bring some very sizeable profits to well-positioned investors.
Click here to check out his research...
Follow Money Morning on Twitter @moneymorning, Facebook, and LinkedIn.