Alibaba stock was up as much as 3.5% to $119.07 Wednesday, one day after the biggest shopping day in history.
Nov. 11 was "Singles' Day" in China. More than $9.3 billion was spent over Alibaba Group Holding Ltd.'s (NYSE: BABA) network of sites. In just 24 hours, Alibaba processed more than 278 million orders.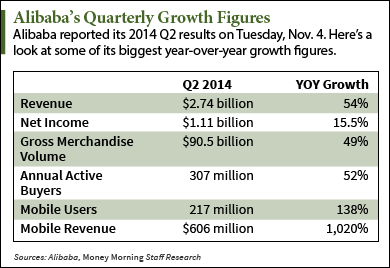 That's more than was spent in the entire United States last Thanksgiving, Black Friday, and Cyber Monday combined. Last year's U.S. Cyber Monday sales totaled just $1.7 billion.
It's also 60% more than Alibaba's 2013 Singles' Day transaction volume total of $5.8 billion.
Each year on Nov. 11 (think 11/11), Chinese bachelors and bachelorettes celebrate their single lives. The holiday is popular with young people, who throw parties and shower themselves and each other with gifts.
Singles' Day began in 1993, but took off in 2009. That's when Alibaba began promoting the holiday.
The growth has been incredible. In 2009, Alibaba had a transaction volume of just $7 million on Singles' Day. This year's volume was a 132,757% increase. All in six years.
"You're seeing the unleashing of the consumption power of the Chinese consumer," Alibaba's Executive Vice Chairman Joe Tsai told BBC. "We really are witnessing history here because we are seeing the shift of the economy from focused on the state sector to consumption."
This year, sales reached $1 billion in the first 17 minutes of Nov. 11. Because of the 13-hour time difference between Beijing and New York, the early news reached U.S. investors during Monday's trading session.
That pushed
Alibaba stock
to an all-time high Monday of $119.45. After the frenzy,
BABA stock
settled back down 3.9% Tuesday. Today, the stock was back up near Monday's high.
While Nov. 11 was a major win for BABA investors, the company's insane Singles' Day growth figures go beyond this holiday. The e-commerce market in China is experiencing unprecedented growth.
Here's a breakdown of the billions of dollars investors tap into when they buy BABA stock…