Our view of the gold market is that it's one of the most stable places to grow your long-term wealth. That's why we're going to show you an easy way to make a 55.9% profit from gold's continued rally this year.
Video
3 Catalysts That Will Boost Gold Prices in 2017
You see, gold prices are already up 12.3% to $1,294 this year. But the gold price rally isn't going to stop soon. Money Morning Resource Specialist Peter Krauth's gold price prediction shows the metal rising another 8.2% to $1,400 by the end of 2017.
But we have a way to take advantage of the gold price rally for even bigger gains. Money Morning Executive Editor Bill Patalon is currently recommending one particular gold mining stock that analysts say could rally as much as 55.9% over the next 12 months.
We'll show you that gold mining stock in just a minute. First, here's why we're so bullish on gold - not just in 2017, but in the years to come...
Why Gold Market Prices Will Only Grow Over the Next Decade
After nearly 10 years of interest rates in the 0%-0.25% range, the Federal Reserve is committed to gradually raising rates again. It has hiked rates three times since 2015 and expects two more this year.
And this high interest rate environment we're currently entering will be a long-term boon for gold prices.
Despite a common misconception that higher interest rates boost the value of the dollar and hurt the price of gold, we expect higher interest rates will push gold prices upward.
"U.S. Federal Reserve rate hike campaigns have been followed by even stronger increases in gold prices," Bill said. "In fact, if you overlay the charts, gold rises almost in lockstep with rate increases."
Just take a look at the 1970s, when interest rates soared from as low as 3% at the beginning of the decade to as high as 15% by the end of it...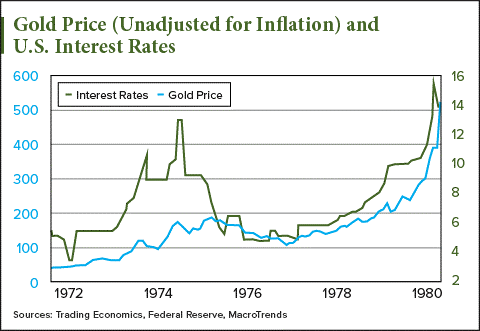 Even though interest rates grew from 5% to 14% during the 1970s, the price of gold exploded 1,328%, from about $35 to $500 per ounce over the same period.
The 1970s gold price rally shows that over the long term, higher interest rates help lead to higher gold prices. And this chart below indicates history may be repeating itself right now...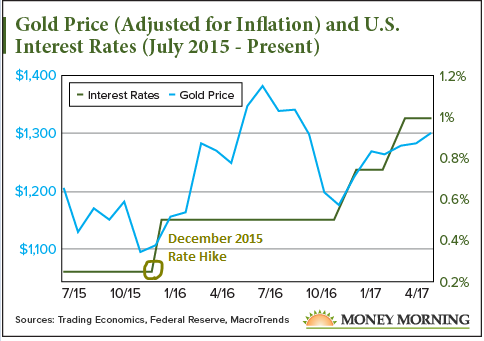 As the chart shows, after a period of historically low interest rates, the Fed is raising rates again.
On Dec. 16, 2015, the Fed raised interest rates for the first time since it dropped rates to near-zero levels in December 2008 to help heal the economy following the Great Recession.
Since the 2015 rate hike, the Fed has raised rates two more times to the 0.75%-1% range. Over that period, the gold price has gained 20.1% from $1,077 to $1,294 per ounce. And with the Fed projecting two more rate hikes in 2017 - including the 96.9% probability of one after the June FOMC meeting next week - gold prices are positioned to rally through 2017 and beyond.
While higher interest rates will lead to higher prices in the gold market this year, rising gold prices mean gold mining companies make more profits on each ounce of gold sold. Bigger profits will lead to higher gold stock prices and higher returns for your portfolio.
Trending: An incredibly rare gold anomaly is shaping up in the markets as we speak -- one that has occurred ONLY twice in the past 20 years. And it's about to happen again. Details here...
This is one reason Bill - a senior research analyst with more than 30 years of experience whose recent stock picks have brought readers profits of 818% - believes one gold mining stock belongs in your portfolio. This company is one of the world's largest miners, with operations all across North, Central, and South America.
It also happens to be one of the world's most efficient gold miners, boasting an $800 all-in sustaining cost (AISC), much lower than close competitor Newmont Mining Corp.'s (NYSE: NEM) AISC of $900. That means it only costs our stock pick $800 to mine each ounce of gold, giving it a profit margin of $494 based on gold's current price of $1,294.
Here's our gold stock recommendation, which analysts expect to soar as much as 55.9% in 12 months...
The Best Gold Stock to Buy for a 55.9% Profit by June 2018