While physical gold will always be a strong hedge to have in your portfolio, investing in gold mining companies can be far more profitable. In fact, we think they're the best way to play the upcoming gold price rally. That's why we're bringing readers one gold mining stock that could provide returns of 53% in 2017.
Video
3 Catalysts That Will Boost Gold Prices in 2017
You see, the metal is already up 9.1% to $1,257 this year. And Money Morning Resource Specialist Peter Krauth sees prices rising to $1,400 per ounce by the end of 2017. That would be a robust 11.4% gain from the current level.
Gold mining companies stand to benefit the most from this bullish gold price environment. After all, a higher price means these firms will make a bigger profit on every ounce of gold they produce.
That's why we're currently looking at one gold mining stock that could surge as much as 53.2% over the next 12 months.
We'll tell you more about this stellar gold investment in a minute. First, let's review the bullish case for the price of gold this year...
Why Gold Prices Are Set to Rise 11.2% in 2017
We're bullish on gold this year because we may be entering a hawkish interest rate environment. And contrary to popular belief, higher rates can often be good for the gold price over the long term.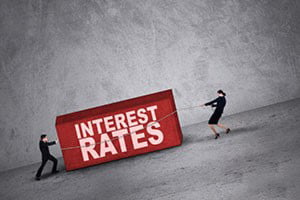 You see, many investors believe that gold can never rally through a rising interest rate environment. Rising interest rates usually hike the U.S. dollar. Because gold is denominated in dollars, it will become more costly vis-à-vis other currencies if the dollar rises. That can depress demand for gold.
In mid-March, the Federal Open Market Committee (FOMC) increased rates to the 0.75% to 1% range. Janet Yellen, the chair of the FOMC, indicated the Fed could boost rates three more times in 2017 and perhaps several times in 2018.
But we don't believe the popular myth that interest rates going up means gold prices can't go up. In fact, Krauth points out that climbing interest rate environments can actually send prices rallying over the long term. Proof of this can be found if you look back to the 1970s...
During most of the 1970s, interest rates were above 5%. That was significantly higher than the current 0.75% to 1% rate range. Not only that, but rates climbed to a whopping 15% by 1979, which was one of the highest levels in history.
Trending: The Four Best Silver Investments to Make in 2017
And the price of gold per ounce saw record returns throughout the decade. In January 1970, the price per ounce was $34.83. By January 1980, it hit $500, unadjusted for inflation.
Krauth believes we're currently entering another era of simultaneously rising interest rates and gold prices. After all, since mid-December 2015, the Fed has hiked rates three times. During the same time, the gold price has gained 18.3% to the current $1,257. And he expects it to gain another 11.4% to his $1,400 target by the year's end.
And the best way to play the rise in the yellow metal is to start investing in gold mining companies...
Gold miners are poised to benefit from a rise in the price of their product. Just like any other company, an increase in product price results in higher profit margins. Higher profit margins benefit the bottom line and help lift the stock price.
Here's the best gold miner to invest in, which analysts say could surge 53.2% by next May...
Investing in Gold Mining Companies All Comes Down to This One Pick