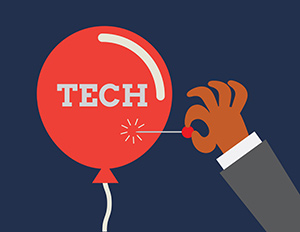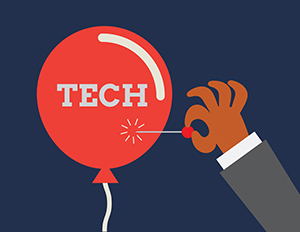 Yes, the Facebook stock price is down 4.4% in February, even though the company crushed its Q4 2015 earnings report.
Facebook Inc. (Nasdaq: FB) is a member of the well-known technology stocks known as FANG (Facebook, Amazon, Netflix, and Google), and these tech stocks have been hit hard in 2016. FANG stocks have dropped an average of 10.55% this year, while the Dow Jones Industrial Average and Nasdaq are down 4.73% and 8.85%, respectively.
Some are viewing this sell-off as a start to a 2016 tech bubble. In fact, Stuart Varney of FOX Business recently asked Money Morning Chief Investment Strategist Keith Fitz-Gerald if the tech bubble was going to burst.
Some people believe that Facebook stock is caught in a "tech bubble." Money Morning Chief Investment Strategist Keith Fitz-Gerald thinks it's something else and that it can reward patient investors...
According to Fitz-Gerald, Facebook stock is not facing a tech bubble...
It's true that the slowing of the Chinese economy, volatile oil prices, and scrutiny of the U.S. Federal Reserve's decisions are all reasons why tech stocks are down right now. But despite the fear in the global markets, Money Morning is still extremely bullish on the Facebook stock price.
But before we get to the biggest reason we're so bullish on FB stock, here's what Fitz-Gerald said about a tech bubble...
Fitz-Gerald takes issue with the current market being termed a tech bubble. Rather, he sees the sell-off as an unwinding.
"It's logical for big pension funds, for banks, for hedge funds to want to take some money off the table in the face of uncertainty over China and oil," Fitz-Gerald stated.
In fact, he views this sell-off as an opportunity...
Fitz-Gerald states that every company in FANG has:
Growing demand
Growing customer bases
Growing businesses
Fitz-Gerald also says these stocks are great for long-term investors.
And the fact that the Facebook stock price has fallen in February means investors can buy in at a discount right now. You see, there is one major reason we see Facebook stock as a buy-and-hold investment for years to come...
The Discounted Facebook Stock Price Makes It a Great Time to Add Positions
Even in a bearish stock market, we believe in the leadership of CEO Mark Zuckerberg.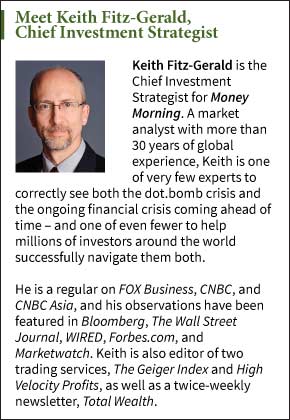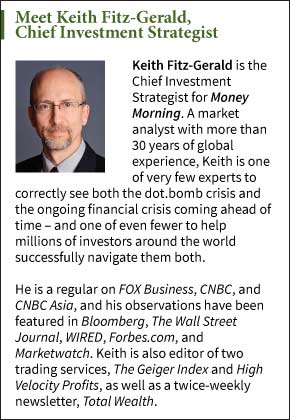 It can often take years to understand how his acquisitions can add to Facebook's revenue growth, but Zuckerberg is proving himself as a visionary through two platforms: Instagram and Oculus Rift.
When Facebook purchased Instagram for $1 billion in 2012, Wall Street didn't understand how a picture app could be worth so much money. After all, Instagram had no revenue and only 30 million users when Zuckerberg first acquired the company.
Now Instagram has turned into a social media juggernaut. As of September 2015, it now has over 400 million monthly active users, and analysts estimate that it brought in $600 million to $700 million in mobile ad revenue in 2015.
By 2017, research company eMarketer projects that Instagram will account for over 10% of Facebook's global ad revenue.
Zuckerberg's vision was also on display when he acquired Oculus Rift.
Similar to Zuckerberg's purchase of Instagram, analysts had no idea how a virtual reality device would increase Facebook's revenue totals.
But once again, Zuckerberg will have the last laugh...
Zuckerberg paid $2 billion for Oculus in 2014. And market researcher TrendForce stated near the end of 2015 that the value of the virtual reality market, which includes hardware and software, would be worth $70 billion by 2020.
Current virtual reality platforms are heavily associated with video games, but Zuckerberg is looking at the bigger picture, as usual. And his ability to anticipate demand is going to open up even more options for the technology, which will bring in even more revenue.
"After games, we're going to make Oculus a platform for many other experiences," Zuckerberg stated in a Facebook post. "Imagine enjoying a courtside seat at a game, studying in a classroom of students and teachers all over the world, or consulting with a doctor face-to-face - just by putting on goggles in your home."
Despite the slow growth of the Facebook stock price in 2016, we believe that Instagram and Oculus Rift are going to be significant sources of revenue and will reward patient FB shareholders.
The Bottom Line: The markets are very volatile right now, but Money Morning Chief Investment Strategist Keith Fitz-Gerald does not believe we are experiencing a tech bubble. For investors with patience, this is a great time to add Facebook stock to your portfolio because of the discounted price. Instagram and Oculus Rift are in the early stages of monetization, but Instagram was believed to bring in between $600 million to $700 million in ad revenue in 2015.
Jack Delaney is an associate editor for Money Morning. You can follow him on Twitter and follow Money Morning on Facebook.
Protect Your Money in This Bear Market: It's true that you would have to be a fortune teller to know exactly when a bear market would start and end. But fortune telling isn't Chief Investment Strategist Keith Fitz-Gerald's profession. His goal is to protect your wealth, maximize gains, and help you focus on what's really going on in the market. In his Money Map Report, this financial guru has used his years of experience as a trader in one of Wall Street's leading firms to help his readers find 86 double- and triple-digit winners. You can learn more about Keith's Money Map Report here...