Gold prices today (Wednesday, May 31) are up 0.23% and trading at $1,268.70 per ounce. With today's gain, the yellow metal is up 1.4% this quarter and 10.2% so far in 2017.
Video
Three Catalysts That Will Boost Gold Prices in 2017
And Money Morning Resource Specialist Peter Krauth believes gold will continue even higher in 2017. In fact, his gold price prediction sees a 10.3% rally to $1,400 through the end of the year.
And that's not the only reason why gold is a good investment in 2017...
2 Reasons to Buy Gold Today
The first reason we recommend gold in 2017 is its consistent demand as a "safe-haven" investment.
Generally, when the stock market takes a dive, investors put more money into safe havens like gold and silver. These are good assets to have because investors use them during "flights to safety" when more liquid investments like stocks become volatile. In other words, the value of safe havens will either increase or remain the same when the stock market drops.
Because of their hedging qualities, safe havens will always retain strong demand over the long term. They're an essential part of every healthy, diversified portfolio.
And as easily the most popular and valuable safe-haven asset, gold often posts big returns over long periods of time. For instance, the price of gold has gained a whopping 268%, from $344.80 to $1,268.70, over the last two decades. It has returned 19.1% in the last 18 months alone.
The second reason to invest in gold this year is strengthening supply-demand fundamentals. Global gold demand is rising while supply is falling - the perfect combination for higher gold prices in 2017.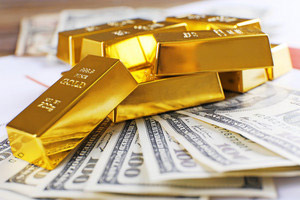 Recent data from the World Gold Council (WGC) shows worldwide demand in Q1 hit 1,034.5 tons. Gold supply during the same period was 1,032 tons. As you can see, supply is coming up short of demand.
Demand is particularly strong in Europe. Investors across Europe, especially in the UK and Germany, purchased eight times more gold exchange-traded funds (ETFs) than investors in the United States. Moreover, last quarter was the third straight quarter that gold ETF demand from Europe was greater than U.S. demand. The rise in gold fund investing is likely from uncertainty surrounding the Brexit and the prospect of Frexit due to the French election, which ended on May 7 and resulted in a win for Emmanuel Macron.
Urgent: An incredibly rare gold anomaly is shaping up in the markets as we speak - one that has occurred ONLY twice in the past 20 years. And it's about to happen again. Details here...
 These two reasons - safe-haven attractiveness and a stronger supply-demand relationship - support Krauth's gold price prediction for $1,400 by the end of the year.
But for investors looking for a gold stock instead of physical gold, we're currently recommending one of the best gold miners to invest in this year. This company is one of the most efficient gold miners in the world, and it could see shares rise by as much as 62.2% over the next 12 months.
Here's our top gold stock pick...
The Best Gold Stock to Buy for a 62.2% Profit by May 2018