After hitting its high of $2,197.50 on June 6, the gold price fell 6.8% to its four-month low of $1,209.70 on July 7. Now the price of gold is rebounding this week, as it's up 1% in the last three sessions to $1,222 today (Wednesday, July 12).
Video
3 Catalysts for Gold Prices in 2017
And we believe the gold price will make double-digit gains through the rest of 2017.
Money Morning Resource Specialist Peter Krauth predicts the price of gold will rebound another 14.6% from the current $1,222 level to $1,400 by the end of 2017.
But not everyone is optimistic.
Analysts are warning that the hawkish rate talks around the world – combined with the gold price trading near four-month lows – may be evidence for even lower gold prices in 2017…
On Monday, Naeem Aslam, chief market analyst for global brokerage ThinkMarkets, told MarketWatch the hawkishness among global banks could drag gold below $1,200 per ounce.
Trending: 7 Ways to Tell If Your Gold Is Real
But Peter – a 20-year veteran of the gold and silver markets – understands one crucial aspect of the relationship between interest rates and gold prices.
It's something that the above analyst has overlooked.
It has to do with the interest rate's long-term effect on gold prices, and it can be summarized in one chart.
We'll show you that chart in a second, but first, this is why higher interest rates tend to hurt gold prices in the short term…
Why Interest Rates Matter for Gold Prices
The biggest reason why the price of gold is down 6.8% from its June 6 high is increased rate hike expectations from both the European Central Bank (ECB) and the U.S. Federal Reserve. This is bearish for gold prices because rate hikes reflect improving economic health, which makes gold – an investment used as a hedge against economic downturns – less attractive.
And on June 27, ECB President Mario Draghi said rising Eurozone inflation might justify a stop to the ECB's bond-buying program and a start to rate increases from their current 0% level. After all, Eurozone inflation in June rose 1.3% year over year and beat expectations of 1.2%, showing how Europe's economic health is improving.
And the Fed raised the federal funds rate – the benchmark U.S. interest rate – from 0.75%-1% to 1%-1.25% on June 14, which dragged gold prices 2.3% lower over the following three sessions alone. The Fed has said it will only raise rates if the economy is strong enough.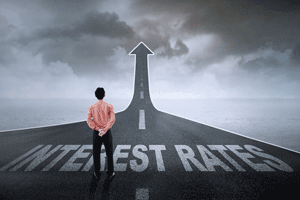 Fed Chair Janet Yellen is also discussing her rate policy outlook before Congress today and tomorrow (Thursday, July 13). She's expected to maintain the same hawkish tone set after last month's rate hike – the second of 2017 – and hint at a third interest rate hike before the end of the year.
While interest rates are heading higher, so is the price of gold.
In fact, this chart shows exactly why higher interest rates will boost gold prices this year…
This One Chart Supports Our 2017 Gold Price Prediction