Billionaire businessman and Dallas Mavericks' owner Mark Cuban challenged President Donald Trump on Twitter yesterday (Sept. 24).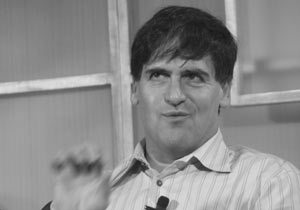 The "Shark Tank" star's tweet pertained to the ongoing national debate about NFL players kneeling during the National Anthem – a controversy that originally kicked into overdrive Friday night thanks to POTUS himself…
That's when Trump, at an Alabama rally for Republican Sen. Luther Strange, said players who kneel or sit for the national anthem should be fired.
"Get that son of a b—- off the field right now, out," Trump said of players who kneel. "He's fired. He's fired!"
"Want to keep politics and sports separate? Don't accept donations from athletes, mgmt, or owners." – Mark Cuban
A growing number of NFL players, most prominently former San Francisco 49ers quarterback Colin Kaepernick, have knelt to shed light on the treatment of African Americans in the United States.
The president then pressed the argument all weekend.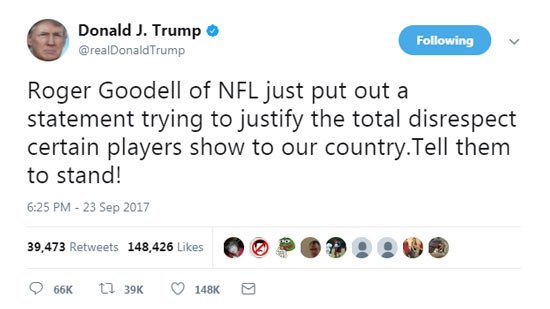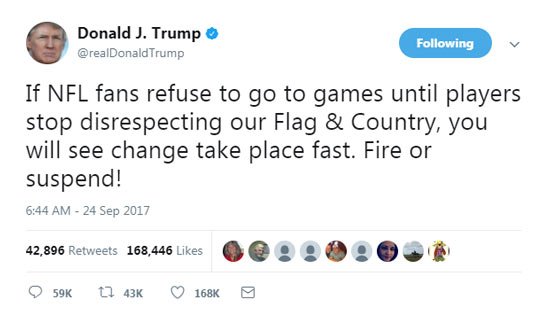 Then, on Sunday morning, Mark Cuban jumped into the fight, but he didn't argue for or against protesting during the National Anthem. Instead, he brought another controversy – political campaign donations – into the ring with him…
Mark Cuban: Don't Take Money from Sports, Mr. President
Cuban tweeted the following proposition on Sunday…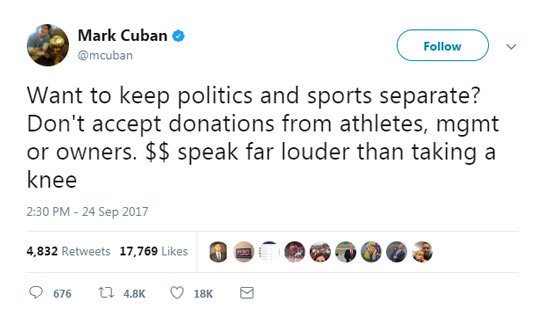 The multibillionaire seemed to be hinting at Trump's financial ties to the NFL world.
It is true that Trump's presidential campaign got a nice financial boost from NFL bigwigs last year. Here are a few major donors, according to Sports Illustrated on April 17:
Dan Snyder of the Washington Redskins
Shad Khan of the Jacksonville Jaguars
Robert Kraft of the New England Patriots
Woody Johnson of the New York Jets
Stan Kroenke of the Los Angeles Rams
Even the NFL's marketing division, NFL Ventures, donated $100,000 to Trump's presidential run.
In light of this information, Cuban seems to be arguing that Trump's acceptance of "football money" during the campaign nullifies his criticisms of the NFL now. Whether or not that's a sound argument to make is left to interested parties' discretion.
Special Report: Cannabis Is the Gold Rush of the 21st Century – 30 Stocks to Invest in Now. Details here…
The markets, however, will be siding with the president. Here's how we know…