Now that China has announced the new "One Belt, One Road" (OBOR) initiative, the focus is back on Chinese stocks. Money Morning Chief Investment Strategist Keith Fitz-Gerald has been telling readers about China's plans for this initiative for over a decade. He says now is the last time to get in or be left behind.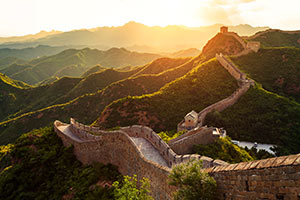 That's why we're bringing you one of the best Chinese stocks to buy now…
What is One Belt, One Road? It's a massive transcontinental infrastructure initiative launched in 2013. The initiative is meant to expand trade across 68 countries throughout Asia, Eastern Europe, and Africa. It also includes over $1 trillion in infrastructure investment across the region.
Must See: This Great Depression-Era "Secret" Helped Transform Two Teachers into Millionaires. Read more…
And that $1 trillion estimate could be very conservative…
"The 'One Belt, One Road' plan is a $5 trillion initiative being undertaken by China to remake the world in its image," says Fitz-Gerald. "Not 'just' the $1 trillion everybody thinks."
Despite its size, few Westerners really know much about it. Even fewer are investing in it. The media is only now starting to cover it.
But that does not mean it slipped under the radar of other countries. None other than Russian President Vladimir Putin was in Beijing last week to ensure Russia's stake in President Xi Jinping's bid to move China to the center stage in global affairs. Putin was one of 29 heads of state listening as Xi pledged $113 billion to the plan.
Video
What Moody's Doesn't Understand About China
One Belt, One Road is meant to evoke memories of the Silk Road trade routes dating back to the Han Dynasty 2000 years ago. Linking the project to the historical trade route is likely a ploy meant to make it seem like a natural development for China. But it is also a way to open up and develop infrastructure-poor regions – and markets – along the route.
It should also bolster China as a world economic leader. And it could mean a profit windfall for investors who know where to look.
Thankfully for Money Morning readers, Fitz-Gerald's decades of research in the area has helped him uncover the best profit opportunities in China.
Here is one of the best Chinese stocks to buy now to profit from the $1 trillion OBOR initiative…
One of the Best Chinese Stocks to Buy Now to Profit from OBOR