Finding the best gold stocks to invest in takes a considerable amount of research. Analyzing the state of the gold market and digging into a company's financial documents are never fun tasks.
Video
3 More Catalysts That Will Boost Gold Prices in 2017
That's why we've done the research for you and found the
best gold stock to buy
this year. We believe shares of this gold mining company will skyrocket 89.7% over the next year thanks to rising gold prices.
Money Morning Resource Specialist Peter Krauth expects the price of gold to gain 11.6% from the current $1,254 level to $1,400 by the end of 2017. Although that's not a huge return, profits from the gold mining sector could explode from the price increase. After all, miners make more money on each ounce they produce when the gold price climbs.
Before we get into our gold stock recommendation, here's why our 2017 gold price prediction is bullish…
Why Gold Prices in 2017 Could Climb 11.6%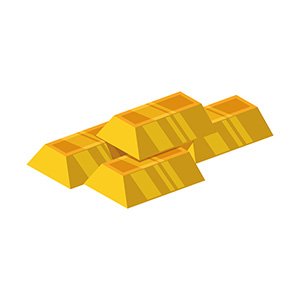 One big reason we're bullish on gold is the stock market, which appears to be cooling off right now.
You see, the stock market has been on a roll for most of 2017, with the Dow Jones surging 6.8% from Jan. 1 to March 1. These sorts of conditions aren't optimal for gold prices. This is generally the case when investors feel secure with the market conditions, which we're finding to be far from the case right now.
Yes, the Dow has blasted through the 20,000 and then the 21,000 marks this year, but there is a growing sense of unease among investors. Since March 1, the Dow has dropped 2.4%. This has investors thinking we could be headed for a serious downturn.
When there's increased chatter about a stock market bubble, investors begin looking for safe havens like gold. There is little doubt today that our market is overvalued, and investors have begun piling gold investments into their portfolios for safekeeping, which is good news for gold prices.
Editor's Note: An incredibly rare gold anomaly is shaping up in the markets as we speak — one that has occurred ONLY twice in the past 20 years. And it's about to happen again. Details here…
Another reason that gold prices are going up this year is inflation. Our current inflation rate has reached a five-year high of 2.7%. In an effort to control inflation, the U.S. Federal Reserve has raised interest rates twice since December 2016.
On March 15, rates were bumped 0.25%, which brought the federal funds rate up to the 0.75%-1% range. According to Fed Chair Janet Yellen, there could be as many as three more rate hikes in 2017.
Higher interest rates are supposed to boost the U.S. dollar's value, but the U.S. Dollar Index (DXY) has fallen from 103.10 to 100.61 since the December rate hike. A weaker dollar typically pushes the price of gold higher because the metal becomes more affordable for buyers using other currencies.
These factors have pushed gold prices up 8.9% so far this year and will help boost them another 11.9% to $1,400 by the end of 2017.
While you could buy some gold bullion and make a nice profit, the best return on your investment in 2017 will be from gold mining stocks. This is because these companies will leverage these price gains to boost their profit margins.
Here's one of the best gold stocks to invest in, which could deliver investors an 89.7% return by next April…
One of the Best Gold Stocks to Invest in Will Gain 89.7% in 12 Months