Many investors are asking, "Should I buy Intel stock?" after a Q2 earnings beat Wednesday that ran against a sea of concerns about the world's largest chipmaker.
Intel Corp. (Nasdaq: INTC) reported earnings of $0.55 a share versus expectations for $0.50 a share. Revenue was $13.2 billion, beating the forecast for sales of $13.02 billion.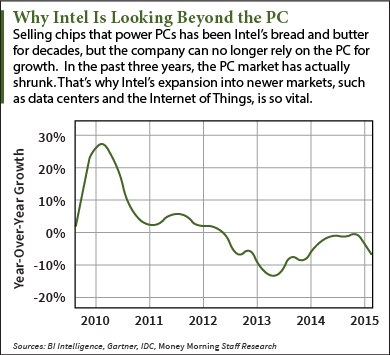 Investors liked the news, sending Intel stock up as much as 8% in after-hours trading Wednesday. But an overlooked item in the earnings report changed all that. The Intel stock price was flat through most of Thursday's trading.
That's because the strong EPS number depended on an abnormally low effective tax rate of 9.3%. A more typical tax rate would have dropped the earnings per share to $0.43 - a big earnings miss.
But that shouldn't distract investors from the bigger Intel story - its transition from its historic bread-and-and butter business of PC processors.
As recently as the first quarter of 2014, the PC business was providing 73.6% of the Santa Clara, Calif.-based company's profits. In the just-reported quarter, 70% of Intel's profits came from other divisions, primarily data center, the Internet of Things, and memory chips.
When research firm Gartner reported earlier this month that PC shipments declined 9.5% in Q2 - the worst decline in two years - it was clear that Intel would suffer a hit.
Revenue from Intel's PC division was down 14% in Q2. Only the progress of Intel's transition strategy averted an earnings disaster.
"This is really a pretty good turnaround," Money Morning Defense & Tech Specialist Michael A. Robinson said on "Asia Squawk Box" on CNBC Asia. "And they're looking at improving profit margins in the very next quarter.... They're doing a good job of moving into growth areas."
But is the transition enough to change the narrative on INTC? Should I buy Intel stock now?
After all, INTC stock is still down more than 18% on the year and has suffered six price target reductions and three downgrades at the hands of analysts in just the past two months.
Let's see what the Money Morning crystal ball has to say...