Although it's trading at its lowest level in nearly two months, gold is set for a big rebound this year. In fact, prices could rise 14.7% from the current $1,220 price to $1,400 by the end of 2017.
Because of that double-digit return, buying gold is a good way to strengthen your portfolio today.
But that's just one of three reasons to consider adding gold to your portfolio today...
3 Reasons Why You Should Invest in Gold Right Now
Reason No. 1: Gold's Value Is Steadily Rising
Gold continues to grow more valuable over long periods of time thanks to its fundamental, underlying demand as a "precious" metal.
Over the last 20 years, the price of gold has climbed more than 250% from $348 to $1,220 per ounce. Its long-term growth has also held up in recent years with the price up 12.4% just in the last 18 months alone.
Reason No. 2: Gold Is a Strong Hedge Against Inflation
Historically, gold has been a sound way to protect your portfolio against the negative effects of inflation since the gold price typically increases alongside the cost of living.
Trending: How to Buy Physical Gold and Silver - Free Guide
During the 1970s, the average annual inflation rate sat at 7.06%, marking the second-highest decade of inflation in the 20th century. Gold climbed over 1,300% from January 1970 to January 1980. That indicates the strength of gold as an investment when consumer prices across the economy are on the rise.
Reason No. 3: Gold Adds Diversity to Your Portfolio
Every sophisticated investor understands the importance of having a range of different assets in their portfolio. These include more profitable, liquid investments like stocks and longer-term, less liquid ones like gold.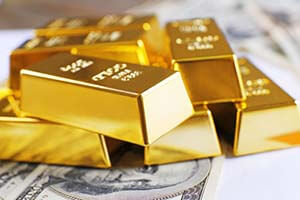 One of the best ways to arrange your portfolio is to find investments that aren't closely tied to each other. Historically, gold has had a negative correlation to stocks. When the Dow Jones crashed 50% from October 2007 to March 2009 during the financial crisis, gold prices surged 27%. Having an appropriately diversified portfolio that mixes gold with other stocks can reduce risk while also increasing exposure to more profitable investments.
While investing in physical gold could yield a 14.7% return this year, Money Morning Executive Editor Bill Patalon says there's one gold mining stock that could offer much bigger returns. He likes the firm because it's one of the most innovative miners in the sector, and analysts say it could soar as much as 62.4% over the next 12 months.
Here's the gold miner you should consider investing in today...
One of the Best Gold Stocks to Buy Could Gain 62.4% by May 2018