Global stock markets are off to a volatile start to 2016, and investors are wondering how to prepare for a possible stock market crash in 2016.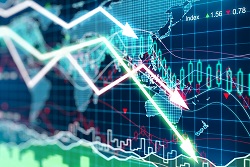 That's why we turned to Money Morning Capital Wave Strategist Shah Gilani. He's considered one of the world's foremost experts on the credit crisis. He not only called for the implosion of the U.S. financial markets, he also predicted the historic rebound that began in March 2009.
But first, here's how the markets have been trending...
So far this year, the Dow Jones Industrial Average, the S&P 500, and Nasdaq are down 6.6%, 6.33%, and 9.07%, respectively. Since hitting highs last May, those markets are down 10.6%, 9.5%, and 9.8%.
Signs of a stock market crash are even worse overseas...
Last week, Japan's benchmark Nikkei 225 tumbled into bear market territory. Stocks in Europe have also been rocked, with benchmark indices in France and the UK joining Germany in a bear market. China's Shanghai Index is down 25% this year and some 47% from highs hit last June.
And according to Gilani, the markets haven't found a bottom yet.
Speaking on FOX Business News Wednesday, Gilani said, "Because we are seeing a huge correlation globally, and unless everything kind of gets lifted up together - commodities, oil, European markets, and China - I don't think U.S. stocks are going to jump out ahead of others and will be mired in this malaise."
Gilani went on to say that China is doing a lot of things that are indicative of the trouble it's in and is taking extensive measures to support its currency. "If that support breaks," Gilani said, "all hell will break lose."
No one knows what China is going to do, Gilani continued, and that's creating havoc in markets.
That's why he's picked out one type of investment that will lead to double-digit profits when there is a stock market crash. Other investors can panic, but you'll be profiting...
How to Invest During a Stock Market Crash
Investors can profit from this market volatility now by investing in inverse exchange-traded funds (ETFs). These funds climb when the markets are dropping, making them the perfect investment for bears.
Gilani likes three of these ETFs. Each one is designed to track the inverse performance of a specific index, either the Dow, S&P 500, or Nasdaq.
The trio include: ProShares Short Dow 30 (NYSE Arca: DOG) for the Dow Jones Industrial Average, ProShares Short S&P 500 (NYSE Arca: SH) to short the S&P 500, and ProShares Short QQQ (NYSE Arca: PSQ) to bet the Nasdaq is headed lower.
When Gilani is extremely bearish and believes stocks are going to fall hard today or tomorrow, he will buy a leveraged short inverse ETF like the ProShares UltraPro Short S&P 500 (NYSE Arca: SPXU). The UltraPro Short S&P fund is a "3x leveraged" inverse ETF. That means if the S&P 500 goes down 1% today, SPXU would go up 3% today.
But it is important to remember that leveraged ETFs are only meant as short-term trading vehicles. That's why Gilani said "if I believe stocks are going to fall hard today or tomorrow." Because of the way leveraged ETFs are priced, they're "reset" every day - they're not good long-term holds.
Investors can also play a spike in volatility buying call options on the VIX, Gilani shares.
Finally, investors can wager on a further run up in safe-haven gold by buying ETFs such as the SPDR Gold Trust ETF (NYSE: GLD), iShares Gold Trust (NYSE: IAU), or the Market Vectors Gold Miners ETF (NYSE Arca: GDX). Gold futures rallied 5.3% in January, the best gain in a year.
Stay informed on what's going on in the markets by following us on Twitter @moneymorning or liking us on Facebook.
Capital Controls Are Here: If you think you can always get cash out of your bank account when you want it, you're wrong. Banks can restrict access to deposits - or confiscate them - and yet the general public has no idea these "laws" exist. Here's how this nightmare could impact you...