This list ranks the 10 top dividend defense stocks by current dividend yield. It also includes three of the best dividend defense stocks that our experts recommend, which we'll tell you about after the chart...
| | | | |
| --- | --- | --- | --- |
| Dividend Defense Stock | Stock Price | 2017 Performance | Dividend Yield (as of July 11) |
| T.A.T. Technologies Ltd. (Nasdaq: TATT) | $10.55 | +20.6% | 3.22% |
| Boeing Co. (NYSE: BA) | $205.59 | +32% | 2.76% |
| Lockheed Martin Corp. (NYSE: LMT) | $287.30 | +14.9% | 2.54% |
| Leidos Holdings Inc. (NYSE: LDOS) | $51.90 | +1.8% | 2.47% |
| United Technologies Corp. (NYSE: UTX) | $122.53 | +12.1% | 2.28% |
| Raytheon Co. (NYSE: RTN) | $166.59 | +17.4% | 1.91% |
| General Dynamics Corp. (NYSE: GD) | $200.83 | +16.3% | 1.67% |
| Embraer SA (NYSE ADR: ERJ) | $19.63 | +1.7% | 1.54% |
| Northrop Grumman Corp. (NYSE: NOC) | $262.26 | +12.8% | 1.53% |
| Elbit Systems Ltd. (Nasdaq: ESLT) | $124.38 | +22.1% | 1.42% |
The defense sector has been outperforming the broader market this year, with the NYSE Arca Defense Index (INDEXNYSEGIS: DFI) up 12.8% in 2017, while the Dow Jones is up only 8.3%.
And the defense sector should continue to grow this year as U.S. spending on defense weapons is projected to rise 2.6% to $834.2 billion in 2017. Not to mention President Trump also plans to raise total military spending by $54 billion. As of 2015, the U.S. defense spending budget was $598.5 billion.
To help our readers profit from growing defense spending this year, three of our Money Morning experts are each giving you their top dividend defense stocks to buy in 2017. All three of these companies offer not just high quarterly dividends (+2.5%), but these stocks are also expected to outperform the market this year.
As you can see, many of the defense stocks listed above have already provided investors with both market-beating share-price growth and dividends this year. For example, T.A.T. Technologies is up 20.6% year to date and also boasts a quarterly dividend of $0.34 per share for a 3.22% yield. United Technologies stock also gained 12.1% in 2017 and offers a $0.70 quarterly dividend for a 2.28% yield.
But our experts aren't recommending TATT and UTX stock today.
Instead, they've selected three better defense firms that investors must have in their portfolio this year...
The 3 Top Dividend Defense Stocks to Invest in This Year
Best Dividend Defense Stock to Buy No. 3: Boeing Co. (NYSE: BA)
Our first pick, Boeing, has been one of Money Morning Executive Editor Bill Patalon's favorite defense stocks since 2011. His consistent recommendation of the company has largely been due to its generous dividend payments.
Boeing currently boasts a dividend yield of 2.76% and dishes out $1.42 per share each quarter. Its quarterly dividend has grown 223% over the last five years and has increased each year since 2012, when it was just $0.44.
"This is a company that has a proven record of taking that cash flow and giving it back to shareholders in the form of dividends, stock buybacks, and other kings of financial engineering," Bill mentioned in February 2017.
As the world's second-biggest defense contractor, Boeing's profits have surged over the last four years. Annual earnings climbed 27.7% from $5.96 per share in 2013 to $7.61 per share last year. Revenue also grew 9.2% over the same period from $86.6 billion to $94.6 billion. This growth largely came from Boeing's massive military orders, including 178 military aircraft and 23,052 weapons systems to clients in 2016.
The company's dominance in the commercial airliner market is also impressive. Boeing secured $76 billion worth of net orders last year for commercial airplanes around the world. These included its order with Norwegian Airlines, whose order of Boeing's 787 Dreamliner fleet became the largest order for any airline company in Boeing's 100-year history.
Boeing's $1.42 dividend isn't the only reason to buy BA stock. According to Thomson Reuters estimates, the BA stock price could reach as high as $235 by July 2018. That would be a 14.3% gain from today's price of $205.59.
Our next defense stock to buy is one of the leaders of the cybersecurity industry...
Defense Stock to Buy No. 2: Raytheon Co. (NYSE: RTN)
Raytheon stock is our second pick because it ties into one of what Money Morning Chief Investment Strategist Keith Fitz-Gerald calls his six "Unstoppable Trends."
Keith defines these six trends as medicine, technology, demographics, scarcity/allocation, energy, and war, terrorism, and ugliness (also known as defense). The Unstoppable Trends are backed by trillions of dollars that Washington cannot derail, the Fed cannot meddle with, and Wall Street cannot hijack.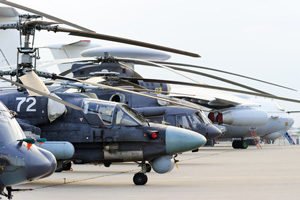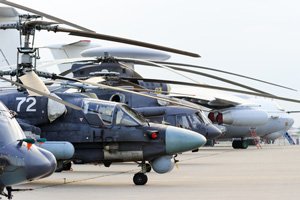 RTN is a great way to invest in the defense trend because the firm supplies weapons used in some of the most important global conflicts right now. A prominent example is the Shayrat missile strike in April, which involved the United States striking a Syrian air base with 59 of Raytheon's Tomahawk missiles. The air strike came in response to Syrian President Bashar al-Assad's chemical attack on civilians just three days prior.
The company's influence is also spreading into the cybersecurity sector, where its subsidiary Forcepoint made up 2% of Raytheon's total 2016 revenue. Forcepoint also placed in the top five of Cybersecurity Ventures' Cybersecurity 500, which lists the top cybersecurity firms to watch this year.
Raytheon's ability to capitalize on the "Unstoppable Trend" of war, terrorism, and ugliness is rewarding its shareholders.
Raytheon offers a quarterly dividend payout of $0.80 per share for a yield of 1.91%. Thomson Reuters analysts predict the stock could rally to $187 within the next 12 months. That means investors who buy in at today's $166.59 price could see a profit as big as 12.3%.
Finally, our third dividend stock pick in the defense sector is one of Money Morning Defense & Tech Specialist Michael Robinson's favorite firms. It's raised its dividend on an annual basis since 2004 - growing 335% over the period - and has also remained a defense pioneer for more than 80 years.
And now it's pioneering one of the most revolutionary weapons technologies of the 21st century - lasers.
Researcher firm MarketsandMarkets reported the market for military laser systems could grow at a compound annual growth rate (CAGR) of 8.9% over the next three years.
By 2020, total contracting sales involving laser weapons in the defense sector could reach $4.6 billion. That doesn't even take into account Trump's planned $54 billion increase in military spending, which could go toward naval ships potentially carrying these laser weapons.
"It sounds like science fiction, but it's a fact," Michael said to Money Morning readers on June 14. "Laser weapons are here now, and perhaps as soon as next year they'll change the way the U.S. military fights conflicts all over the world. You'll have reaped the financial rewards long before that, though."
Thomson Reuters analysts predict this stock could gain 18% by July 2018.
However, if the company has a breakthrough in its newest laser project sooner than expected, that projected return could look very conservative...
[mmpazkzone name="in-story" network="9794" site="307044" id="137008" type="4"]
Dividend Defense Stock to Buy No. 1: Northrop Grumman Corp. (NYSE: NOC)
Michael recommends Northrop Grumman, whose stock is up 12.8% to $261.96 this year and offers a quarterly dividend of $1 per share. That dividend payment is up 10% from last quarter and 335% since 2004, when it was just $0.23.
Northrop's big push into laser technology is what Michael likes most about the stock. The firm is working with the U.S. Navy to build the most cost-efficient laser weapon yet, called the Laser Weapon System Demonstrator (LWSD).
You see, the biggest problem with developing laser technology has always been generating enough electrical power to make it work. Since these weapons demand so much of it, they're often difficult to maintain and operate on mobile Navy ships.
Several defense contractors have already raced to develop efficient laser weapons systems for Navy use. Kratos Defense & Security Solutions Inc. (Nasdaq: KTOS) built the first one - called the Laser Weapon System (LaWS) - in 2014. The system uses 30 kilowatts (kw) of electricity and was installed on the USS Ponce in the Middle East. It can shoot a drone and poke a hole in a ship at a maximum distance of roughly 1,000 meters.
But Northrop Grumman is currently building the most powerful one yet. Since 2016, it's been building the LWSD, which uses 150 kw and is five times more powerful than the LaWS. Although it requires more electrical power, the LWSD is one of the most cost-efficient laser systems, with each shot only costing about $2.
That's chump change compared to traditional-style naval weapons like the Navy's new Zumwalt-class guided missile destroyer. It costs a whopping $800,000 every time the Zumwalt-class destroyer fires a shell, which can weigh up to 1.5 tons and be less accurate than lasers.
The LWSD's amount of power - which is five times the power of the LaWS - for the cheap cost of $2 per shot will give Northrop a huge edge on the competition.
"Northrop is in the perfect spot to usher in the 'Laser Age,'" Michael said.
Outside of its new lasers, the rest of Northrop's business has been soaring in recent years too. From 2015 to 2016, its annual earnings increased 17.3% from $10.39 per share to $12.19 per share. Last quarter, it reported a profit of $3.63 per share on $6.3 billion in sales. That was up 20% and 5%, respectively, from the same quarter in 2016.
And Thomson Reuters analysts believe Northrop's earnings still have room to run this year. They forecast a total 2017 EPS of $12.36 - up 1.4% from its 2016 total.
Those same analysts give NOC stock a one-year price target of $309 per share. That would be an 18% profit for investors who buy in today.
But with Northrop quickly becoming the front-runner in the $4.6 billion laser weapons revolution, there's a strong possibility NOC's returns could be much bigger than that.
The Bottom Line: With benchmark NYSE Arca Defense Index beating the Dow Jones by 4.5% in 2017, it's clear that defense stocks are great ways to beat the market. And because they offer generous dividends, they're also great ways to make money just by holding them in your portfolio. We recommend buying shares of Boeing, Raytheon, and Northrop Grumman in 2017 because these industry leaders offer both strong dividend policies and high one-year price targets.
The Best Pot Stocks: After months of research, we've found the most lucrative and fastest-growing legal pot stocks in America. And for a limited time, you can get all the details for free. Learn more...