With gold prices up 10% to $1,267.30 in 2017, you may be looking for the best gold company to invest in right now. Fortunately, Money Morning recently recommended a gold stock that could produce gains of 54.2% in the next year.
Gold companies are attractive investments right now because the gold price is expected to rise even higher this year. According to Money Morning Resource Specialist Peter Krauth, the price of gold will rally another 10.5% from its current $1,267.30 price to $1,400 by the end of 2017.
While that's not a massive gain, there are ways to leverage those price increases for a bigger profit. Specifically, putting your money into the right gold mining stock can produce a return that beats both the stock market and gold price rally.
That's why we're going to show you the best gold stock to buy in 2017, which analysts believe could soar as much as 54.2% by April 2018.
Here's why we continue to be bullish on gold prices and gold mining companies this year...
Why Gold Prices Are Going Up in 2017
The price of gold will keep appreciating this year for two reasons...
First, gold will rally because it's the ultimate safe-haven investment when markets become volatile. While the Dow Jones is up 6.1% so far this year, there is a growing sense of unease among investors that a stock market correction is on the horizon.
Signs of a market downturn have been looming since the Dow blew through the all-time high of 21,000 on March 1. If a stock market crash is in the cards, investors don't want to be left holding a portfolio filled with stocks. Instead, they'll want investments like gold and gold stocks that could soar in value if the market takes a nosedive.
Free Report: The Essential Guide to Buying Gold in 2017
The second reason the gold price will rise to $1,400 this year is the ongoing battle with rising inflation.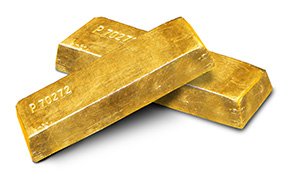 We are currently looking at an annual inflation rate of 2.4% as of March. That's one of the highest levels seen since 2012. The U.S. Federal Reserve has taken measures to control inflation through two consecutive interest rate hikes, which happened in December 2016 and March 2017.
The key federal funds rate is in the range of 0.75% to 1%, which could still be too low, according to the Fed. That's why Fed Chair Janet Yellen has repeatedly said there may be three more rate hikes in 2017.
Interest rate hikes typically boost the value of the U.S. dollar. However, that hasn't been the case over the long term. The U.S. Dollar Index (DXY) is down more than 3% since the first rate hike on Dec. 14, 2016. When the dollar is weak, gold prices go up because the metal becomes more affordable for buyers using other currencies.
These two factors have pushed gold prices up 10% this year and will lift them another 10.5% to $1,400 by the end of the year.
While you could buy physical gold, gold mining stocks are a much better investment. The profit margins for these companies will only grow bigger as the price of gold increases.
With that in mind, here's the best gold mining stock to invest in...
The Best Gold Company to Invest in Will Return 54.2% by Next April