Investors have been looking for the best gold mining company to invest in now that the metal has climbed this year and is now trading at $1,249.80 per ounce.
For comparison, that beats the Dow Jones' gain of 5.9% over the same period.
And Money Morning Resource Specialist Peter Krauth forecasts a year-end price of $1,400 for gold. If the metal hits that target, investors who buy in now would see a 12% return in just over seven months.
But we've found a better way to leverage gold's rally for a much bigger profit. We specifically recommend investing in one particular gold mining company whose stock could offer a huge return as high as 61.2% over the next year.
Before we give you our pick, here's why we're bullish on the gold price in 2017...
Why Gold Prices Will Rally This Year
Some investors interested in gold believe in the myth that the price of gold can't rise when interest rates are rising.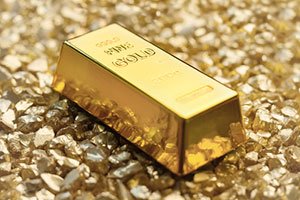 After rates were hiked to the 0.75%-1% range in mid-March, U.S. Federal Reserve Chair Janet Yellen said three more interest rate increases could happen this year. She even hinted at several more rate hikes in 2018. Climbing interest rates often boost the U.S. dollar, which drags gold prices lower since the metal is priced in dollars and becomes more expensive to users of other currencies when the dollar rises in value.
But Krauth believes that contrary to popular belief, periods of rising interest rates don't hurt gold prices. In fact, over the long term, high interest rates have often correlated with a higher gold price. All you have to do is look at the 1970s for proof...
For most of the decade, the federal funds rate - which is the benchmark U.S. interest rate - stood at over 5%. That's much higher than the current range of 0.75%-1%. It reached 15% by 1979, which was one of the highest levels in history.
Despite rates hitting those record levels, gold prices managed to rally throughout the decade. From January 1970 to January 1980, the metal skyrocketed from $34.83 per ounce to $500 (unadjusted for inflation).
Don't Miss: The Best Ways to Profit from Gold in 2017 - Free Report
We appear to be entering a similar era of both climbing interest rates and rallying gold prices. There have been three rate hikes since Dec. 15, 2015. Over that period, the price of gold has gained 17.7% to its current $1,249.80 price.
Krauth believes those gains will continue over the long term, and gold mining stocks stand to benefit the most from rising gold prices. After all, miners make more money when prices rise because their profit margins grow bigger for each ounce of gold they produce.
That said, let's talk about the best gold mining stock to buy in 2017, which could hand you a 61.2% profit in just 12 months...
The Best Gold Mining Company to Invest In for a 61.2% Return by Next April