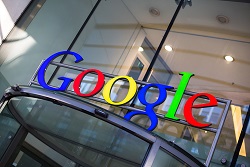 GOOGL stock climbed more than 5% this morning (Tuesday) to an all-time high of $807.94 after parent company Alphabet crushed earnings after the bell Monday.
And according to Money Morning experts, there's one major reason why the GOOGL stock rally won't end any time soon.
The GOOGL stock rally pushed the company's market cap to $536.98 billion today. That helped Google eclipse Apple Inc. (Nasdaq: AAPL) as the world's most valuable company.
GOOGL reported Q4 earnings per share (EPS) of $8.67 on revenue of $21.33 billion. That beat EPS of $6.76 from the same quarter last year. It was also better than the consensus forecast of $8.10 in EPS on $20.77 billion in revenue.
Revenue from advertising climbed to $19.08 billion, up 17% year over year (YOY). Sales for Google websites also rose 20%. The Internet giant's aggregate paid clicks, a key advertising metric, increased 31% YOY, besting expectations of about 22%.
One of the biggest reasons for Alphabet's huge quarter is Chief Financial Officer Ruth Porat, who joined Google in March 2015 from Morgan Stanley. She is widely credited with helping Google, whose costs have jumped on a number of ambitious projects, achieve the impressive Q4 results.
Alphabet debuted a new reporting method Monday. The tech behemoth starting breaking out results for its main Internet products from those of its newer ventures. The company reported two segments: "Google" and "other bets."
The restructuring keeps Google focused on its core mission of search, while allowing it to pursue its ambitious plans of becoming an "end to end" Internet firm, Money Morning Defense & Tech Specialist Michael A. Robinson explained in late December.
The Google segment includes core products like search, cloud software, video platform YouTube, and Android software. The other portion is made up of early-stage projects such as the fiber Internet service, life sciences business Verily, and X, a research and development arm.
For full-year 2015, the segment comprised of its newer businesses posted $448 million in sales and an operating loss of $3.57 billion. Its loss widened from $1.94 billion in the previous year.
That "other bets" section may be much smaller than Alphabet's core business right now, but it will have the biggest impact on the GOOGL stock price in the coming years. Here's why…
Why the GOOGL Stock Rally Will Continue
"The secret to Google is not necessarily what they are doing now," Money Morning Chief Investment Strategist Keith Fitz-Gerald said during his regular appearance on FOX Business on Monday. "But the fact that they've got companies with artificial intelligence. They've got the cars, they've got the phones. There's a lot of things that are within Google. The move to Alphabet is the first step to actually breaking that up and unlocking value."
Fitz-Gerald said GOOGL is a good long-term investment for investors right now.
Money Morning Technical Trading Strategist D.R. Barton agrees that Alphabet's forward-focused company culture has created an excellent investing opportunity.
"You think about the culture that they've put together at Alphabet, which is 'let's do something for the future, as opposed to doing the financial engineering that a lot of other tech companies are doing,'" Barton said on CNBC last night. "You have to give them credit – it's made them the world's largest company by market cap."
And he's not alone in his bullish opinion of GOOGL stock. A number of analysts echoed that sentiment with increased GOOGL stock price targets Tuesday:
Mizuho raised its GOOGL stock price target to $1,070 from $850.
Bernstein hiked its GOOGL stock price target to $1,050.
Deutsche Bank lifted its GOOGL stock price target to $1,080 from $900.
RBC Capital raised its GOOGL stock price target to $1,000 from $880.
Oppenheimer raised its GOOGL stock price target to $965 from $822.
And that doesn't even take into account the other nine firms we found that all raised their GOOGL stock price predictions.
Before the GOOGL stock rally Tuesday, Alphabet's stock was among the best performers in the S&P 500 over the last year, rising 40%. GOOGL stock currently trades at more than $800 per share, but it still has plenty of room to run long term.
Stay informed on what's going on in the markets by following us on Twitter @moneymorning or liking us on Facebook.
The Gold Mining Revolution: Technological advancements in gold mining have been stagnant, but one tiny Canadian company is about to change that. Its special extraction method will slash production costs and send gold prices soaring. In fact, this nano cap could disrupt the entire industry…
Related Articles: