Chipotle CEO Steve Ells issued an apology yesterday (Thursday) to patrons who contracted E. coli from eating at the chain's restaurants.
The Chipotle stock price jumped on the news and closed at $575.34, a 2% increase from its opening price of $564.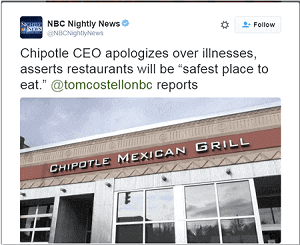 But don't expect the rally to continue. Analysts believe that the remedial costs from the outbreak will cut into margins in this quarter and the next, according to FOX Business.
This is the first time Chipotle's CEO has issued a public apology since Chipotle Mexican Grill Inc. (NYSE: CMG) first announced it was closing 43 restaurants in Portland and Washington state on Oct. 30 because of the E. coli outbreak.
"It's a really tough time,'' Ells told Matt Lauer on The Today Show. "I have to say I'm sorry for the people that got sick. They're having a tough time. I feel terrible about that, and we're doing a lot to rectify this and make sure it doesn't happen again."
The apology comes just a few days after state health officials announced on Dec. 8 that 120 students at Boston College reported illnesses after eating at Chipotle.
The students didn't contract E. coli, but they all suffered from a fast-spreading airborne bug that causes gastrointestinal distress, according to TODAY News. The restaurant in Boston has been cited for three health violations, and Chipotle has voluntarily closed the location.
For the month, the spread of E. coli from Portland and Washington to a total of nine states has caused the CMG stock price to drop by 8.71%. Year to date, the Chipotle stock price is now down 17.07%.
Despite the apology and reassurance from Chipotle's CEO, there's still reason to believe that the Chipotle stock price can plummet even further.
And CMG shareholders need to brace themselves for more bad news...