There are two things to note about Facebook Inc. (Nasdaq: FB) that happened in February: The new Facebook emoji reactions that rolled out on Feb. 24 and the 1.03% slip in the Facebook stock price.
We're going to address both today. And while the new emoji reaction buttons don't sound like something investors would be interested in, they play into Facebook's profitability. Let's look at those first…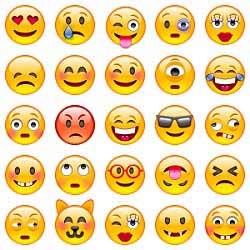 The new reaction buttons now include:
A "Like" button
A "Love" button
A "Haha" face
A "Wow" face
A "Sad" face
An "Angry" face
These new options will appease users who have long asked for more than just a "Like" button. But more importantly, these simple reaction buttons are going to help the FB stock price skyrocket to $250 per share by 2020…
Before I get to that, let's look at why the Facebook stock price is down 1.03% in the last month.
Volatile oil prices, concerns that the federal government will enact negative interest rates, and the slowing Chinese economy are all contributing to the stagnant Facebook stock price.
All of these issues are starting to cause fear of a tech bubble…
Recently, Stuart Varney of FOX Business asked Money Morning Chief Investment Strategist Keith Fitz-Gerald point-blank if the tech bubble was about to burst…
Some people believe that Facebook stock is caught in a "tech bubble." Money Morning Chief Investment Strategist Keith Fitz-Gerald thinks it's something else and that it can reward patient investors…
Fitz-Gerald took issue with the phrase "tech bubble." Rather, he sees this sell-off as a natural unwinding.
"It's logical for big pension funds, for banks, for hedge funds to want to take some money off the table in the face of uncertainty over China and oil," Fitz-Gerald said.
Fitz-Gerald also views this sell-off as a buying opportunity. He stated that Facebook is growing its demand, user base, and business.
It's true though that the Facebook stock price today has been stagnant, and don't be surprised if it remains volatile in the short term, along with the rest of the global markets. But we are very bullish on the long-term outlook for FB stock.
This is where the emojis come back into play. CEO Mark Zuckerberg's sneaky emoji innovation is going to make Facebook the most-desired social media platform to advertise on…
One of the Reasons the Facebook Stock Price Will Climb 129% in Four Years
In November 2015, Money Morning Defense & Tech Specialist Michael A. Robinson stated that Facebook has the type of stats that are "a digital advertiser's dream come true."
Facebook reported in its Q4 2015 earnings report:
Daily active users were 1.04 billion on average in December 2015 (a 17% increase year over year).
Monthly active users (MAUs) were 1.59 billion as of Dec. 31, 2015 (a 14% increase year over year).
Mobile MAUs were 1.44 billion as of Dec. 31, 2015 (a 21% increase year over year).
This impressive audience size is why advertisers helped Facebook record revenue of $17.93 billion in 2015, a 44% increase from 2014. In fact, Robinson is so impressed that he gave Facebook stock a price target of $250 per share by 2020.
And because of the emojis, Zuckerberg has turned Facebook into an even more attractive platform to advertise on…
Product Manager Sammi Krug stated in a company statement that Facebook will use the new reaction buttons to infer if users want to see more of that type of post.
"Over time we hope to learn how the different Reactions should be weighted differently by News Feed to do a better job of showing everyone the stories they most want to see," Krug stated in the Facebook post.
Previously, the "Like" button has been used to determine the types of stories users prefer. But now, Facebook has a direct way of analyzing how people feel about certain posts.
How is this going to help advertisers? Well, Facebook is going to be able to provide users with even more information tailored to their specific interests. Advertisers were limited to one type of reaction before, but now they can see how many people "Like," "Love," or are even "Angry" about their posts.
This will help advertisers determine which ads are most effective.
Forbes also projects that more tailored information will keep people on Facebook longer, which means Facebook users will see even more ads.
This advanced analytic data is why Facebook is the top social media platform to advertise on, and it's why Facebook will generate even more ad revenue in 2016 and beyond.
The Bottom Line: The Facebook stock price has been flat over the past month. But the new emoji reactions are going to make CEO Mark Zuckerberg's company an even more attractive platform to advertise on. Facebook is a digital advertiser's dream, and it's one of the reasons why we believe FB stock will trade at $250 per share by 2020.
Jack Delaney is an associate editor for Money Morning. You can follow him on Twitter and follow Money Morning on Facebook. 
Protect Your Money in This Bear Market: It's true that you would have to be a fortune teller to know exactly when a bear market would start and end. But fortune telling isn't Chief Investment Strategist Keith Fitz-Gerald's profession. His goal is to protect your wealth, maximize gains, and help you focus on what's really going on in the market. In his Money Map Report, this financial guru has used his years of experience as a trader in one of Wall Street's leading firms to help his readers find 86 double- and triple-digit winners. You can learn more about Keith's Money Map Report here…