Our first round of best stocks to buy now for the New Year highlights some of the best opportunities of 2018. All these stocks give you the chance to double (or triple, or more) your money and make this another profitable year for you.
Here's a look at the companies behind our best stocks to buy.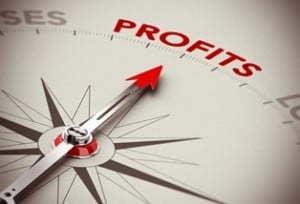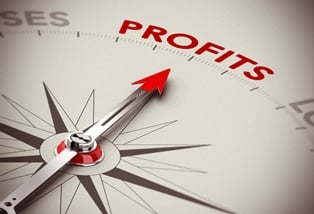 As manufacturing automation increases in China, a secretive robotics company in Japan stands to make out handsomely.
Just 15 years after the first human genome was sequenced, one company is revolutionizing healthcare by making it as cheap as a new pair of shoes.
There's no reason you can't profit off the Retail Ice Age, as one highly profitable company helps retailers stay competitive in a harsh environment.
Bitcoin is in a modern-day gold rush, and we've got a "pick-and-shovel" play that allows you to profit off the craze without risking your money on Bitcoin itself.
Now, for our four latest best stocks to buy now...
Best Stocks to Buy Now No. 1: Not Even 007 Can Stop This Company's Global Takeover, and That's Good News for Your Portfolio
As China continues to grow at a rapid pace, one of the best stocks to take advantage of it is from Japan.
That's because China's increasing economic activity is making the country's businesses more and more reliant on robotics. And one of the top robotics companies in the world is headquartered in a heavily wooded area at the foot of Mt. Fuji.
This company is so secretive that Fortune once compared its founder to a villain from a James Bond movie.
As we've written before, a robot invasion is nothing to fear. That's good news, because the signature yellow industrial robots from Fanuc Corp. (OTCMKTS: FANUY) are already well on their way to taking over the world.
"Fanuc might just be the single most important manufacturing company in the world right now."
As Joshua Hunt reported for Bloomberg in October, Fanuc's robots are the go-to option in China for manufacturing, automobile assembly and painting, and all sorts of sorting and food prep tasks. The company's Robodrill model has been responsible for creating the metal casing on Apple's smartphones going back to the iPhone 4.
"Fanuc might just be the single most important manufacturing company in the world right now," Hunt wrote, "because everything Fanuc does is designed to make it part of what every other manufacturing company is doing."
As Money Morning Chief Investment Strategist Keith Fitz-Gerald put it, "Chances are good that you've got something Fanuc 'made' in your house or your pocket right now."
Don't Miss This Shot at a $78,000 Windfall: This tiny firm is about to make the entire world wire-free. As its game-changing technology revolutionizes the global power structure, its stock could hand investors a massive return...
China installed 90,000 new industrial robots in 2016, according to the International Federation of Robotics, a 30% increase from the year before. Yet its ratio of robots to workers still pales in comparison to that of the United States, Japan, and South Korea.
That means you can expect a continued windfall for Fanuc, which already boosted earnings last quarter by 33% from a year earlier.
Currently trading for less than $30, FANUY is a bargain - for now.
Best Stocks to Buy Now No. 2: The Most Advanced Medical Science Will Soon Cost Less Than a Smartphone Thanks to This Genetics Pioneer
After the first human genome was sequenced in 2003, replicating the feat cost about a million dollars. By 2013, one leader in genetic analysis had gotten it down to $4,000.
Today, that company can perform an entire human genome sequencing for $1,000, and according to Forbes, it's not far away from being able to do it for just 1/10th of that.
Launched in 1998, Illumina Inc. (Nasdaq: ILMN) is tapping into an industry that, according to Mordor Intelligence, will grow 50% to be worth nearly $60 billion by 2021. It's called "precision medicine."
Precision medicine is a model for delivering customized healthcare based on a patient's genetics and other physiological characteristics.
This practice can optimize results and lower costs - especially when genetic sequencing only costs $100. That's probably why Congress was willing to put $215 million into precision health initiatives in 2016.[mmpazkzone name="end-story-hostage" network="9794" site="307044" id="138536" type="4"]
The sequencing services Illumina provides also help scientists track new viruses before they become widespread and develop advanced new drugs. The company is even playing a growing role in forensics. The San Diego-based firm has also carved out a niche in agricultural genomics, helping to produce healthier crops and livestock.
Illumina's sales have doubled in the last five years, to $2.4 billion in 2016. Its annual earnings growth over the last four years has been 21.5%.
At that pace, this stock is likely to double by 2021.
With a steady track record and more than $2 billion in cash on hand, Illumina is a paragon of great operations. Forbes ranked it No. 18 on its list of "World's Most Innovative Companies" in 2017.
"There's a great chance Illumina can have a major positive impact on your physical and financial health," Money Morning Director of Technology & Venture Capital Research Michael Robinson says.
Find out more about Illumina's startup subsidiaries that Michael likes, as well as his favorite "pick-and-shovel" play on precision medicine.
Best Stocks to Buy Now No. 3: This Fast-Moving Company Could Be Our First Triple-Digit Gainer of 2018
Keith Fitz-Gerald is no stranger to finding stocks that can deliver triple-digit gains. He found 62 of them in 2017.
Now he sees what could be his first triple-digit gainer this year.
Keith has been telling readers to stay away from brick-and-mortar retail. He has called the Retail Ice Age an "extinction-level event."
But that doesn't mean there's no money to be made from it. "There's always a way to profit," Keith says, "if you know what to look for."
As retail companies defend themselves from the "Amazon effect," more and more of them are going to turn to firms like Manhattan Associates Inc. (Nasdaq: MANH). This is a company that offers solutions in order to streamline operations through automation, reducing excess inventory, and other efficiency-boosting measures.
Video
Keith Fitz-Gerald's Latest Fast-Profits Play
MANH's client list includes New Balance, David's Bridal, and Papa John's, and in October, it announced a deal with one of Italy's largest supermarket chains to improve efficiency across its 156 locations.
It's not surprising that a company that specializes in maximizing the profits of others is itself highly profitable. And it's growing at an astonishing pace. From 2014 to 2016, net income grew a stunning 51.4%, from $82 million to $124.2 million.
In fact, MANH has increased earnings per share by at least 20% in each of the last seven years.
It only takes 10 minutes a week to double your way to $1 million: his strategy doesn't require any special training – yet it could potentially put $1 million in your bank account faster and easier than you ever dreamed…
As retailers need to make their supply chains as lean as possible in order to stay competitive, MANH's industry savvy and stellar performance create the perfect storm for a possible triple-digit jump over the next year.
"The financials are in great shape," Keith says. "Profits are ahead."
Best Stocks to Buy Now No. 4: This Company Lets You Make Money on Bitcoin Without Buying Bitcoin
As exciting as Bitcoin is right now, investing in it is not for the faint of heart - nor even for the wisely risk-averse.
In mid-November, Bitcoin was trading at $6,000. By mid-December, it was at $20,000. And as of late January, it's fallen to $10,000.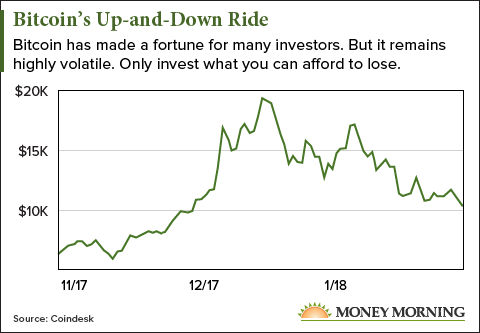 People have made fortunes on Bitcoin. But others have been burned badly. And the difference appears to have a lot to do with luck - not sound investing principles.
"Buying Bitcoin today is a lot like mining for gold during the California Gold Rush of 1849," says Keith.
As with that gold rush, you can chase fortune with everybody else and hope you get lucky, or you can invest in the materials those fortune-chasers need. That's what Levi Strauss did when he started selling rugged blue jeans to miners, making a fortune of his own in the process.
If you want to make a similar play for today's gold rush - or "Bitcoin rush" - we recommend CME Group Inc. (Nasdaq: CME). CME handles futures and derivatives contracts totaling about $1 quadrillion per year - about 10 times the combined GDP of every country in the world.
Now it's adding Bitcoin futures to its offerings.
Here's the key: If Bitcoin prices skyrocket, that's great for CME. If Bitcoin prices fall, that's fine too. CME makes its money on the transactions, not on the price of the commodity.
"Investing in CME as a back door into Bitcoin is like investing in master limited partnerships operating oil pipelines," Keith says. "The price of oil doesn't matter as long as the toll associated with moving it from one place to another gets collected."
That makes it a great "pick-and-shovel" play for savvy investors looking to profit off the Bitcoin craze without taking on a lot of risk.
Up Next: While You Sleep, He Executes Night Trades...
Last Wednesday, the Night Trader infiltrated the markets at 9:30 p.m. The next time he checked his account on Friday, his entire portfolio went up 83%.
He then spent the weekend at a five-star hotel. And on Monday, saw an additional 102% total gains in his account.
That's 185% total gains in two trading days (all without using a single option).
Once you see how the Night Trader makes money, your life will never be the same again. Go here now...
Follow Money Morning on Twitter @moneymorning, Facebook, and LinkedIn.