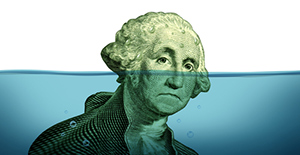 Risks of a stock market crash are still here, despite Janet Yellen's efforts to calm investor nerves.
The Janet Yellen speech from yesterday (Monday) is propping up the markets today – even though we're coming off only 38,000 new U.S. jobs being created in May.
Yellen called the jobs report "disappointing" and dismissed the idea of a June rate hike. But the Dow Jones Industrial Average climbed by 75 points in intraday trading today because the U.S. Federal Reserve chair said gradual rate increases would "probably be appropriate."
Yellen also stated she believed the economy was improving.
The average investor received a shot of confidence from the Yellen speech, but our Money Morning readers shouldn't be so quick to buy into the good vibes.
Money Morning guru Keith Fitz-Gerald believes the Fed has to raise interest rates in 2016.
You see, there are two major issues with the global economy that could trigger an economic collapse and market crash.
Today we are going to look into those disappointing job growth numbers because they are important. But we're also going to look at two other threats that could cause a stock market crash in 2016.
First, the Jobs Report…
For the poor May jobs report, everything from the weather to the Verizon Communications Inc. (NYSE: VZ) strike was blamed. Fortune stated that because of a mild winter, construction companies were able operate longer, needing less help in the spring.
But the numbers are worse than the construction sector just not adding any jobs. The construction sector actually lost 15,000 jobs in May, according to the Bureau of Labor Statistics.
Other important sectors like manufacturing, transportation, and professional services all lost jobs in May.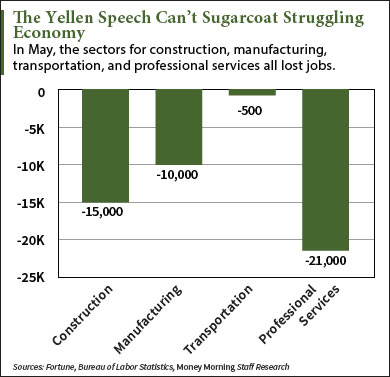 While some point to the new 4.7% unemployment rate (previously 5%) as a good sign for the U.S. economy, it's also misleading. According to CBS News, many Americans are simply not looking for work and weren't counted in the unemployment rate.
The number of part-time workers who wanted to be full-time workers only increased 5% from March to May. That could indicate higher-paying positions and full-time jobs are just simply not available, as people entering the workforce also declined by 42% from March to May.
As you can see, Yellen should have called the jobs report more than disappointing. And just like slowing job growth, these two stock market crash triggers aren't going to be stopped by an optimistic speech from Janet Yellen…
Stock Market Crash Warning Sign No. 1: Volatile Oil Prices
On June 2, the 13 members of OPEC met to discuss putting a limit on oil production. The cartel had already met in April, and just like in April, nothing was accomplished.
That's because Iran refuses to limit its oil production…
You see, the United Nations lifted its oil export sanctions on Iran in January. And because the sanctions are lifted, Iran wants to produce as much oil as possible to make up for the money it has lost since the 2012 ban.
And partly because of the excessive production, oil prices have cratered over the past five years.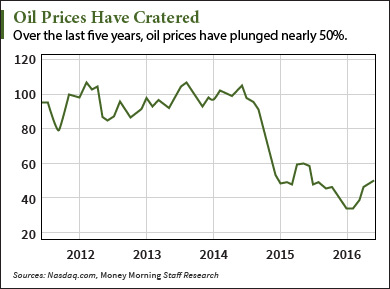 Countries like Saudi Arabia heavily rely on oil exports, as the petroleum sector accounted for 45% of its GDP as of 2014.
But lower oil prices also play a major impact in America…
According to CNN Money, 67 U.S. natural gas and oil companies filed for bankruptcy in 2015. That's a 379% increase from 2014.
If oil prices remain volatile, economies across the globe will suffer devastating consequences.
Stock Market Crash Warning Sign No. 2: Negative Interest Rates
In an effort to fight stagnation, Japan introduced negative interest rates on Jan. 29.
Negative interest rates force commercial banks in Japan to pay fees when money is deposited with the Bank of Japan. This is supposed to encourage commercial banks to loan more money and hoard less cash.
Theories on negative interest rates have been around since the 19th century. But the problem is that implementing theories without precursors for success is dangerous.
Michael Lewitt, Money Morning Global Credit Strategist, calls negative interest rates a desperate effort to boost an economy.
You see, banks are unable to pass along operating costs to consumers because of negative interest rates. If there isn't a large demand for loans, the banks can't afford to pay the rates to deposit money at the Bank of Japan.
And by encouraging banks to give out more loans, Japan is pushing risky lending behavior. The banks will feel more pressure to loan out its money, providing more money to unqualified loan seekers.
This increases the risk that loans won't be paid back, devastating local and global economies.
According to CNN Money, Yellen stated in February that negative interest rates aren't off the table. If the United States adopts negative interest rates, Lewitt believes that the stock market would face a major decline.
Currently with low interest rates, banks like JPMorgan Chase & Co. (NYSE: JPM) and Bank of America Corp. (NYSE: BAC) are already down 2.95% and 15.74%, respectively, in 2016.
The Bottom Line: The Yellen speech offered investors new hope, but don't be fooled. Poor job growth, volatile oil prices, and negative interest rates are all triggers for a global economic collapse and a stock market crash.
Jack Delaney is an associate editor for Money Morning. You can follow him on Twitter and follow Money Morning on Facebook. 
Why Gold Buyers Look So Smart: Over the last few months, billionaires like Stanley Druckenmiller have been loading up on gold. In March, George Soros' fund purchased $124 million in a gold ETF. As an economic collapse looms, find out why gold investors are looking so smart right now…
Related Articles: