There's a popular gold investing myth that's been rooted in the market for years now: gold prices can't rally through eras of higher interest rates.
Video
3 Catalysts That Will Boost Gold Prices in 2017
Since gold is priced in U.S. dollars, the price of gold is known to drop when the value of the dollar rises. High interest rates often push the dollar higher, which leads investors to think the gold price can't rise during periods of hawkish rate policies.
Now that the U.S. Federal Reserve has plans for three more rate hikes in 2017, it seems we're entering another high interest rate era. But we're confident our gold investment – which we're going to share with you today – will still yield a 91% return over the next 12 months, regardless of the number of 2017 rate hikes.
Here's proof that higher rates don't always suppress the gold market…
Want to Debunk This Gold Investing Myth? Just Look at the 1970s
Over the long term, high interest rates don't always drag gold prices lower.
If you look at this chart, you'll see how the 1970s were stunning proof of that…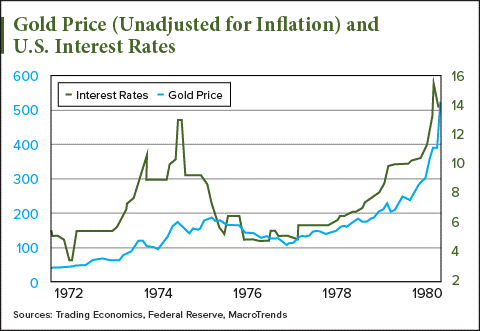 The 1970s were an incredible decade of soaring interest rates and gold prices. Throughout most of that decade, the federal funds rate – considered the benchmark interest rate of the United States – steadied above 5%. That's far above the 0.75% to 1% rate we have following the last March 15 rate hike. What's even more astounding about interest rates in the 1970s is that they peaked above 15% by 1979 right as the early-1980s recession was starting to take shape.
Urgent: A completely unique gold play is forming in the markets. And it's so rare that it's only the third time in 20 years that it's happened. If you get in now, you could see a share of upwards of $13 billion in cash windfalls. Read more.
The price of gold skyrocketed in the face of record-high rates. The metal surged from about $34.83 per ounce in January 1970 to more than $500 per ounce by January 1980 (unadjusted for inflation).
Clearly, the entire decade debunks the gold investing myth that interest rates and gold prices can't simultaneously run higher.
And history may be repeating itself as we're starting to see a long-term trend of rising gold prices and rising interest rates. Since Dec. 16, 2015, the Fed has hiked rates three separate times. Meanwhile, the gold price has climbed 16.8% to $1,257.80 since then.
That strong gain indicates gold is poised for a long-term rally this year, regardless of how many rate hikes there are. Any stock market pullbacks in response to rate increases will also be catalysts for the price of gold this year.
According to Money Morning Resource Specialist Peter Krauth, prices could rise 11.3% to $1,400 by the end of 2017. While that's not an explosive gain by any means, we believe gold mining stocks could post huge returns. As the price of gold rises, gold mining companies will make more money on each ounce produced and sold.
That's why this gold mining stock could rocket 89.1% by April 2018…
The Best Gold Stock to Buy in 2017