Lobbing threats at Congress won't help U.S. President Donald Trump achieve his goals.
And he should be careful now more than ever before, with one of his capstone campaign promises on the line…
Indeed, when Republican members of Congress return to work on Sept. 5, tax reform will be at the top of their respective agendas.
And the work that lies ahead for them doesn't just have to do with a few quick alterations to current policy. Since September 2015, Trump has promised time and again that he will completely overhaul the U.S. tax code.
Doing so will be no small feat – and will require congressional approval first.
But judging by the president's behavior toward Congress this year, he may not make any headway at all.
Here's why…
Trump's Brash Tactics Didn't Keep Obamacare Repeal from Failing
Trump started threatening GOP legislators about the consequences of failing to repeal Obamacare early on in his first term…
On March 21, he issued a blunt warning to House Republicans who attended a private meeting he'd hosted:
Anyone who doesn't support the ACA repeal bill will find the president cheering on his or her 2018 midterm challenger, party affiliation be damned.
BREAKING: New Legislation Could Turn Tiny Pot Stocks into Millions. Click Here…
"I'm gonna come after you, but I know I won't have to, because I know you'll vote 'yes,'" Trump said, according to The Washington Post that day.
It was just after this remark that the great "Obamacare repeal and replace" debate officially kicked off on Capitol Hill.
And the House was fairly quick on the uptake…
On May 4, the chamber did pass a repeal bill – one that even contained elements unanimously in line with what most party members wanted, those being healthcare expansion rollback and future cuts to Medicaid.
"I don't want to be disappointed by Congress, do you understand me?"
But a little over a month later (and after massive public backlash), on June 13, Trump knocked the House's bill as "mean" because it would leave millions of Americans (including many who form his support base) hurting.
Trump's method was all stick and no carrot, threatening House members to push through a bill that would hurt millions of Americans, then chastising them when the bill didn't meet expectations.
Yet, he used the same bullying strategy in the Senate to fix the situation.
You see, it was up to these particular legislators to not just restructure the bill into something arguably "less harsh" by POTUS' standards; it was also their duty to pass it into law…
On July 20, in another White House private meeting, POTUS again threatened electoral consequences for senators who opposed the bill during the final vote process.
He also argued that failing to repeal Obamacare would equate to a public show of disregard for each senator's constituents.
"Any senator who votes against starting debate is really telling America that you're fine with Obamacare," Trump said, according to The Washington Post.
Nine days later, when it was time for senators to cast a final vote on the bill, Trump issued one last Hail Mary threat: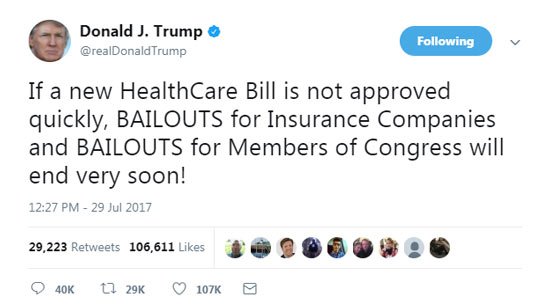 But later that same day, Obamacare repeal and replace officially died on the Senate floor – for good. After which congressional legislators left for summer break, with Trump's "bailout" threat ever-looming, an open-ended threat to this day.
Must See: North Korea is "fake news" – this is where WWIII will start. Read more…
Despite the clear evidence that his bully tactics didn't work with Obamacare repeal, Trump kept using them as his go-to strategies to try and get things done.
Congress Has Started to Push Back
On Tuesday, Aug. 22, POTUS threatened to shut the U.S. government down if needed to pressure Congress into funding the border wall that – like Obamacare repeal and tax reform – was a centerpiece of his 2016 presidential campaign.
"If we have to close down our government, we're building that wall," Trump told thousands of supporters gathered in Phoenix for a campaign-style rally. "One way or the other, we're going to get that wall," reported CNBC that day.
After issuing this threat, however, GOP lawmakers fired back…
"It's entirely counterproductive for the president to be picking fights with Republican senators who he will need for important agenda items that they both agree on," U.S. Rep. Charlie Dent (R-PA) told The Washington Post the very next day. "Does he think that Democratic senators will be more cooperative than John McCain and Jeff Flake and Susan Collins? It doesn't seem to make any sense."
GOP Rep. Tom Cole of Oklahoma, chair of the House Appropriations subcommittee, added his two cents on Trump's warning as well.
"When you control the presidency, the Senate, and the House, you're shutting down the government that you're running. I don't think it's smart politically, and I don't think it would succeed practically," he told Reuters on Aug. 23.
Even Speaker of the House Paul Ryan rebuked Trump's ultimatum – notably, in milder words.
"I don't think anyone's interested in having a shutdown," he said, according to Reuters.
Yet despite the apparent ineffectiveness of Trump's audacious remarks to Congress, he is at it again.
And this time, Trump's admonitions could cut off the last leg on which his presidential agenda currently stands…
 The Same Tactics Will Yield the Same Results
Wednesday (Aug. 30), Trump touted the benefits of his tax reform plan in a speech in Missouri.
In keeping with his aggressive approach to corralling legislators, he actively encouraged voters in attendance not to vote for Sen. Claire McCaskill (D-MO) if she doesn't get on board with his tax plan.
"She must do this for you, and if she doesn't do it for you, you have to vote her out of office," Trump said in his speech.
Threatening a Democrat is unlikely to have a huge effect on any legislation, as the Democrats have been stalwart in their opposition to GOP legislation this year.
But the president also had a few ominous words for GOP legislators on Capitol Hill, who, as with healthcare, will once again use budget reconciliation rules to try and pass the legislature without Democratic input.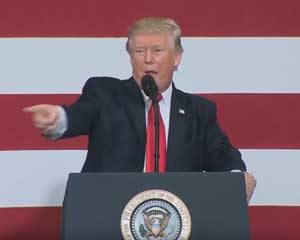 "I don't want to be disappointed by Congress, do you understand me?" Trump said on Wednesday, pointing directly at the lawmakers in attendance. "I think Congress is going to make a comeback. I hope so. The United States is counting on it."
But if Trump doesn't ease up soon, we may not see that "comeback" anytime in the near future.
How the Markets Will React to Tax Reform
Money Morning Capital Wave Strategist Shah Gilani expanded on the market's reaction to Trump's tax reform on FOX Business Network's "Varney & Co." ahead of the president's speech on Wednesday.
You see, Shah doesn't just want to see lawmakers on Capitol Hill "getting along"; he wants hard evidence that they're actually making headway. "[Investors] want to hear something concrete come out of not just the [Trump] administration, but from Congress too."
Shah was joined by fellow Money Morning guru, Technical Trading Specialist D.R. Barton, Jr., who laid out for viewers how he expects the markets to react to whatever direction Trump's tax reform policy takes.
Check out their combined insight right here…
An Incredible Win Rate: Since April 28, Shah Gilani's Zenith Trading Circle subscribers have had the opportunity to make average gains of 35% per day (including partial closeouts) on his recommendations. His win record is insane (in a good way). You've got to check this out – just click here.
Follow Money Morning on Twitter @moneymorning, Facebook, and LinkedIn.
Related Articles: