The Dow, S&P 500, and Nasdaq each opened at all-time highs Thursday as the eight-year bull market rages on. But the record-breaking highs have investors wondering when the next stock market crash could come…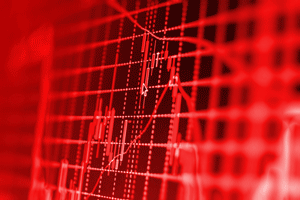 This bull market may be great news for stock portfolios, but there are some signs that stocks are reaching unsustainable highs, which could lead to another stock market crash.
We aren't predicting a market crash in 2017. But we do want our readers to be as informed and prepared as possible.
Here's why some investors are concerned that stock prices have gotten too high, plus the three best stocks to own during a market crash…
What History Tells Us About Stock Market Crashes
It's impossible to predict the exact timing of the next stock market crash, but we can look at history to see why the markets crashed before.
Take the most famous stock market crash of all, for example. The stock market crash of 1929 was the result of risky, speculative stock purchases. Investors operating under the belief that the market could never fall took unhealthy risks to buy more stocks. Investors borrowed more than $120 billion (inflation adjusted) to buy stocks on margin.
Don't Miss: An $80 billion cover-up? Feds use obscure loophole to threaten retirees… Read more…
This speculation sent share prices soaring over 300% between 1922 and 1929, but it also led to a stock market bubble.
And the bubble eventually popped…
On Oct. 28, 1929 – Black Monday – the stock market dropped 13%. The sudden fall sent investors into a panic, especially those who had to pay back margin loans. By the time the panic ended in 1932, the Dow had lost 86% of its value.
While the 1929 stock market crash was especially severe, it shows us how a long period of speculative investing can push stocks too high.
And we are seeing evidence that could be the case today…
What Could Cause the Next Stock Market Crash?
The Dow has soared more than 208% since March 2009 and 10% since 2017 started. Not only has the Dow shattered all-time highs, but it surged between 20,000 and 21,000 points during February in its fastest 1,000-point gain ever.
But there are signs stock prices have been pushed to overinflated levels.
The Shiller P/E ratio is one measure of the stock market's value. Economist Robert Shiller developed his P/E ratio to more accurately measure overall stock market value.
And the Shiller P/E ratio is currently at 30.12, 79% above its historical average. Today's level is even higher than just before the 2008 stock market crash, when it peaked at 27.4.
The reason the stock market is overvalued comes down to low interest rates from the U.S. Federal Reserve. After the 2008 stock market crash, the Fed slashed rates from over 5% to 0.25% and kept them below 1% until this year.
These record-low rates were meant to make borrowing money cheap and easy in hopes that business would use the money to grow.
Trending: The Four Best Silver Investments This Year (and Why You Need Them in Your Portfolio Today)
Instead, businesses used the cheap borrowing costs to repurchase shares of their own stock. Since 2008, publicly traded companies have repurchased more than $2 trillion of their own shares while borrowing $1.9 trillion.
That means it's unlikely so much money would have poured into the stock market if it weren't for low interest rates. Now that the Fed is committing to raising interest rates again – with two rate hikes already this year – whether the stock market's surge is sustainable is a serious question.
But savvy investors are always thinking ahead; that's why we're showing you the three best stocks to own when the market gets volatile.
These stocks will hold their value during a crash and could even bring you a profit as the markets fall too…
The 3 Best Stocks to Own During a Volatile Stock Market