The new Silk Road is a Chinese initiative to expand trade across 68 countries throughout Asia, Eastern Europe, and Africa. Also known as "One Belt, One Road," the plan includes over $1 trillion in infrastructure investment across the region to bring the ancient Silk Road trading route back to life.
China hopes the plan will strengthen its standing as a global leader. The profit potential is also massive for investors looking to benefit from China's trillion-dollar investment and expanded trading zone.
Money Morning Chief Investment Strategist Keith Fitz-Gerald says this is a tremendous opportunity for investors, and it's one he's been following for years.
Video
Fitz-Gerald Says Investors Have to Act Quickly on China
"This is a $1.1 trillion attempt to remake the world in China's image," Fitz-Gerald told FOX Business Network on Monday.
What he couldn't say on live television is that this infrastructure initiative could actually translate into a more than $5 trillion policy...
But investors must act quickly since the news has gone mainstream...
"The investor has a very limited window now that the story is out in the open," Fitz-Gerald said.
That's why we're bringing our readers two stocks to buy now to profit from the new Silk Road initiative. Before we get to our stock picks, here's why the new Silk Road is a one-of-a-kind wealth-creating event...
The New Silk Road Is More Than a Trillion-Dollar Financial Windfall
China's "Belt and Road" initiative is designed bolster China as a world leader, but it's also opening new markets for Chinese companies. That could mean a profit windfall for investors who know where to look.
This is an opportunity Fitz-Gerald has been tracking for years, but the media is just now starting to take it seriously.
"China's ambitions are extraordinary and unprecedented."
"99.9% of Westerners have been missing the boat, which means they'll also miss the greatest wealth-building opportunity in the history of mankind," said Fitz-Gerald.
"China's ambitions are extraordinary and unprecedented."
The new Silk Road, first announced in 2013, will connect China with markets in Eastern Europe and Africa through new infrastructure and trading routes. The investment in roads, bridges, tunnels, rail, and ports will make commerce between China and these countries easier and cheaper.
With 68 countries involved in the initiative and trillions pouring in, China's new economic plan truly has massive scale. Just look at the One Belt, One Road map to see how large this trading group will be.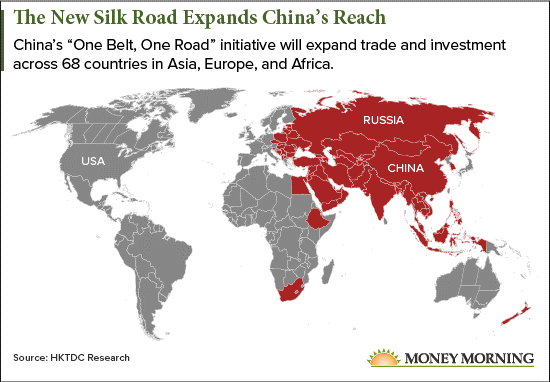 But make no mistake: While the trillion-dollar investment to make this happen will be a boon to the economies on the route, the real winner is China.
"[Chinese President Xi Jinping] hopes to create new markets for Chinese companies," reported The Economist earlier this week (May 15). "China needs it because it provides an answer of sorts to some of its economic problems."
The new Silk Road is now underway. China has already spent billions on construction projects across the new Silk Road route, and this week China is hosting 28 world leaders participating in the project. The Belt and Road forum, as it's called, features the most world leaders in China since the Beijing Olympic Games in 2008.
While China is turning its plans into action, investors need to move quickly to get exposure to China and take advantage of the potential economic boom.
In fact, American firms like General Electric Co. (NYSE: GE) are already trying to get in on the action. GE is bidding to provide $7 billion worth of new equipment for Chinese construction companies working on the Belt and Road plan this year.
GE says it has a "laser focus" on this opportunity. You should, too.
"There's still time for you to make the key plays to harness the movement of China's money abroad," said Fitz-Gerald.
And to help Money Morning readers take advantage of this massive effort by the Chinese to dominate the global economy, we're giving you our best new Silk Road investments.
Here are our two best China stocks we're recommending now...
How to Profit from the New Silk Road in 2017
[mmpazkzone name="in-story" network="9794" site="307044" id="137008" type="4"]
Fitz-Gerald thinks there are two great plays to take advantage of China's growth.
The first is Alibaba Group Holding Ltd. (NYSE: BABA), which already dominates China's e-commerce industry, just like Amazon.com Inc. (Nasdaq: AMZN) does here.
That's a big deal since China is the world's largest e-commerce market. Its e-commerce market could amass sales of $2.4 trillion by 2020, according to eMarketer.
"Alibaba is working on advanced artificial intelligence, autonomous vehicles, and next-generation technologies that will bolster China's economy for decades to come," Fitz-Gerald said.
China's Belt and Road plan is only going to help Alibaba, too. By helping build up neighboring economies and connecting them to China, Alibaba will be able to expand its customer base on a global scale, all while the Chinese government foots the bill. That's not to mention what a growing Chinese economy will do for Alibaba's profits.
BABA's already up 29% since its IPO in 2014, and it's going to grow even more along with China. That's a big reason Wall Street is bullish on the stock. Analysts are projecting it could hit a price target of $180 this year, a 49% gain from today.
Baidu Inc. (Nasdaq: BIDU) is another Chinese firm primed to grow along with China's economy and global status.
Baidu is a lot like Alphabet Inc. (Nasdaq: GOOGL) in that it dominates China's search engine market, but it's doing a whole lot more.
Baidu is also developing all sorts of new technology for the Chinese economy, from streaming services to autonomous vehicles. But its biggest push is a billion-dollar effort to take on the artificial intelligence world. Forbes lists Baidu on its "World's Most Innovative Companies" list.
Chinese growth spurred by the Belt and Road plan will only help innovators like Baidu, especially as they seek influence outside of China. Baidu just bought U.S. tech startup xPerception in April.
China's new Silk Road plan could help Baidu expand some of its tech to new markets. For example, the company's online payment tool could be a solution for new businesses and consumers who sprout up as China pours money into the plan.
Wall Street likes the Chinese search giant, too. Analysts are projecting revenue growth up to 26% this year, but its share price could soar even higher. Wall Street analysts forecast share price growth of up to 46%.
BIDU stock is trading at $185.90 right now.
Editor's Note: "Must-have" companies backed by Unstoppable Trends are a cornerstone of Keith's wealth-building strategy. But there's another type of investment he wants Money Morning Members to know about. It's one of his favorites, a kind of "desert island fund" he'd buy if he had to park his money in one place, "retire" from civilization for 20 years, and come back to a pile of money. Click here to learn more...

Follow Money Morning on Twitter @moneymorning, Facebook, and LinkedIn.