Goldcorp Inc. (NYSE: GG) is one of the best gold stocks to buy this year, with returns expected to be as high as 60.7% by May 2018.
Video
3 Catalysts That Will Boost Gold Prices in 2017
The company's profit margin is projected to grow significantly as gold prices keep rebounding from their recent $1,216 low on May 9.
You see, although gold is up 9.1% to $1,256 year to date, it cratered 6% from $1,294 on April 18 to $1,216 on May 9. Today, we're going to go over why gold prices were down recently and why they're poised to rebound 11.5% from their current price to $1,400 by the end of the year. Then, we'll get into why GG stock is the best gold investment of 2017.
Here's everything you need to know about the price of gold in 2017...
Why Gold Will Rebound from the Recent Drop
There was one big reason behind the sharp decline: the outcome of the French presidential election.
On May 7, centrist candidate Emmanuel Macron won the second and final round of the race over right-wing candidate Marine Le Pen. Macron secured a big lead over Le Pen during most of the election, which reassured investors there would be no market volatility.
The general consensus was that a Le Pen win would result in France pulling out of the European Union (EU). As one of the biggest economies in the EU, a French exit - or "Frexit" - would likely lead to market sell-offs around the world. The same happened with the Brexit, which caused a 4.8% sell-off in the Dow Jones over the two sessions following the vote on June 23, 2016.
But Macron's victory meant no market volatility. Since gold often gets a boost when the stock market drops, it instead dropped to a two-month low of $1,216 on May 9.
Trending: The 4 Best Silver Investments of 2017
As you can see, though, gold has already rebounded 3.3% from that low. This indicates how any dip in prices will likely just be a short-term pullback.
That's why Money Morning Resource Specialist Peter Krauth predicts we're going to see the price of gold hit $1,400 an ounce by year's end. That would be a gain of 11.5% from today's price. Beyond that, the metal will continue to rally over the long term thanks to its continued appeal as a safe-haven investment.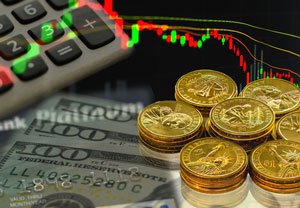 As the Dow Jones keeps hitting fresh highs, investors are piling into gold to prepare for a potential correction. Today, the index is trading at 21,097.50, near its all-time high of 21,115.55 hit on March 1. Meanwhile, gold is also up a slight 0.1% to $1,256.
Gold's safe-haven appeal will come into play as big international events unfold this year. These include the ongoing Brexit negotiations, the looming Greek debt bailout, and the upcoming German election. All of these could cause negative market reactions that stoke big investor interest in physical gold and gold stocks.
If you choose to invest in physical gold, Krauth believes you could see a return of 11.5% by the end of the year. But analysts say our pick for the best gold stock to buy - Goldcorp - could rally as much as 60.7% over the next 12 months. That's nearly six times the return of physical gold.
Here are the two biggest reasons Goldcorp stock is poised to soar this year...
2 Reasons Why Goldcorp Is the Best Gold Stock to Buy in 2017