Adobe stock is the Money Morning Pick of the Week.
Adobe Systems Inc. (Nasdaq: ADBE) is one of Silicon Valley's legendary successes, best known for its iconic Photoshop software.
And while the Adobe stock price doubled from mid-2013 to the end of 2015, the company's new strategy is feeding a fresh wave of growth. That's why Money Morning Defense & Tech Specialist Michael A. Robinson says ADBE stock still has a ton of upside.
Let's dive into the details…
Adobe Systems Inc.: About the Company
Adobe Inc. was founded Feb. 28, 1982, in Mountain View, Calif., by two former employees of Xerox Corp.'s (NYSE: XRX) leg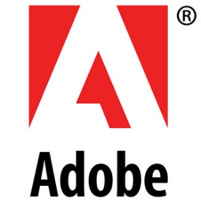 endary Palo Alto Research Center (PARC). John Warnock and Charles Geschke had developed graphics and font technology that would become the foundation of the PostScript printing language.
Frustrated that Xerox had no interest in commercializing the technology, the two set out on their own. It was technology the budding PC revolution desperately needed to create smooth, clean printouts.
When Apple Inc. (Nasdaq: AAPL) licensed PostScript for its LaserWriter printers in 1985, the desktop publishing industry was born. Adobe went public in 1986. Annual revenue exploded from $4.4 million in 1985 to $16 million in 1986, and had reached $80 million by 1988. That's when Adobe started branching out into the software that's made it famous: Illustrator (1987), Photoshop (1989), and Premiere (1991).
In 1993, Adobe adapted its PostScript technology to create the now-ubiquitous Portable Document Format (PDF). In the 1990s, Adobe also started making acquisitions. Among the most significant were Aldus in 1994, GoLive in 1999, and Macromedia in 2005.
Today Adobe Systems Inc. has annual revenue of $4.8 billion and employs more than 13,000 people worldwide.
An Adobe Stock Overview (Nasdaq: ADBE)
The ADBE stock price has had a terrific run over the past two-and-a-half years.
Since bottoming out in late February 2009 along with the overall market, Adobe sto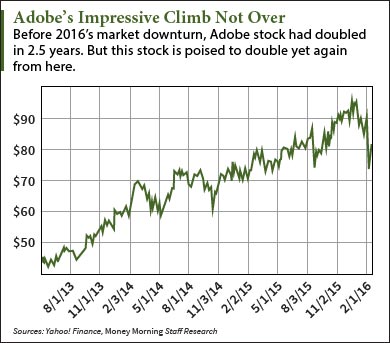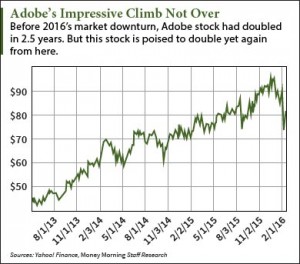 ck is up more than 350%. That's more than double the performance of the Standard & Poor's 500 Index over the same period (162%). Much of the strength in Adobe stock has been relatively recent; since mid-2013, it's up nearly 83%.
But even with all those gains, and even with all the current market volatility, ADBE stock is still a buy. Robinson recently re-recommended it to readers of his Strategic Tech Investor service, a Money Morning sister publication.
"Since I first recommended it, Adobe stock has more than doubled," Robinson told me. "What's more, it's poised to double your money again."
Here's why Robinson calls Adobe stock the "crown jewel" of tech…
Why ADBE Stock Is a Buy
Although it's 33 years old, Adobe hasn't been sitting still.
You see, Adobe is reaping the benefits of its 2013 decision to move its primary product, the Creative Suite (which includes such software as Illustrator and Photoshop), to the cloud and rechristen it "Creative Cloud."
"The Creative Cloud is yielding huge financial gains for Adobe," Robinson said. "The company's Q4 earnings report was astounding."
Adobe's subscription revenue for 2015 rose 55.3% over the previous year to $3.2 billion. That drove a 61.2% rise in earnings per share, which increased to $2.08.
Selling by monthly subscription means Abode now has a steady, reliable revenue stream.
Plus, Robinson noted that in putting an end to boxed software, Adobe also saves money on packaging and distribution – money that's now going to the bottom line.
And Adobe has sought other ways to keep its cloud business growing.
"Adobe's $800 million purchase of the Fotolia 'stock' photography service in December 2014 went unnoticed on Wall Street," Robinson said. "That acquisition – which updated the stock-photo tradition by putting its database of images online – underscores how Adobe has become a cloud-computing profit machine. This is a $3 billion market."
This acquisition became Adobe Stock (images, that is) in June of last year. Since 85% of the creative professionals who buy stock images already use Adobe's products, the service is one more incentive for hold-outs to spring for a Creative Cloud subscription. It also helps keep current customers on board.
As long as Adobe keeps executing on this strategy, Robinson sees more big gains ahead for ADBE stock…
Investing in Adobe Stock
According to Yahoo! Finance, the average one-year target on Adobe stock is $103.39, with a high target of $115. That's a 40% gain from the current ADBE stock price of about $82. But Robinson thinks Wall Street is underestimating Adobe's true potential.
Analysts say Adobe's earnings will grow 33% in 2016 – a figure Robinson considers conservative. Nevertheless, he plugged that number into the "Rule of 72" formula to figure out when Adobe stock will double.
"Dividing the 'safe' 33% into 72 shows us that the stock should go up 100% in just a shade over two years," Robinson told me. "While the market may be down, great stocks and outstanding bargains are out there. You just have to know where to look."
For two more of Robinsons favorite tech picks for 2016 – as well as more insight on why he's so fond of Adobe – check out the video below…
[To learn about the paradigm-shifting stock Robinson mentions at the end of the video, click here.]
Follow me on Twitter @DavidGZeiler or like Money Morning on Facebook.