The Dow Jones Industrial Average is already up 116 points in pre-trading hours, even as Hurricane Irma batters Florida. Investors believe the damage from the hurricane will be less than first estimated, especially after the storm shifted course and is weakening.
That optimism is pushing airline and other travel stocks higher this morning. Don't miss out on the rally with our best stocks to own now, plus five more opportunities others will miss...
Life-Changing Profits: This investing strategy has racked up 30 triple-digit wins so far this year - and 46 in the last 12 months. To learn how to get in position for the next one, click here now...
Here are the numbers from Friday for the Dow, S&P 500, and Nasdaq:
| | | | |
| --- | --- | --- | --- |
| Index | Previous Close | Point Change | Percentage Change |
| Dow Jones | 21,797.79 | 13.01 | +0.06% |
| S&P 500 | 2,461.43 | -3.67 | -0.15% |
| Nasdaq | 6,360.19 | -37.68 | -0.59% |
Now here's a closer look at today's most important market events and stocks, plus Monday's economic calendar.
The Five Top Stock Market Stories for Monday
This morning, Florida will begin the long dig out of this weekend's direct hit by Hurricane Irma. Today, there will be plenty of focus on the shares of insurance companies that will face significant claims from hurricanes Irma and Harvey. Some names to watch include HCI Group Inc. (NYSE: HCI), Heritage Insurance Holdings Inc. (Nasdaq: HRTG), and Everest Re Group Ltd. (NYSE: RE). All three companies are up sharply in premarket hours.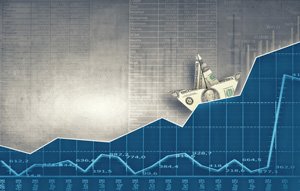 The fallout from the Equifax hack is rightly upsetting for the 143 million Americans whose personal data has been stolen and compromised. Hackers have made off with personal information that can be used to open fraudulent accounts, steal your tax refund, and even prevent you from accessing prescription drugs. The company has largely been silent since revealing the breach. Shares of Equifax Inc. (NYSE: EFX) fell again in premarket hours on news that the company will not be able to cover the total cost of this breach through insurance. Perhaps that's why they are forcing customers to give up their right to sue the company just to find out if they have been victims of the breach.
Geopolitical tensions are still on the rise as North Korea continues to build its nuclear program in the face of world opposition. Over the weekend, the country celebrated its 69th anniversary since its founding. Leader Kim Jong Un celebrated with a large military display and an Orwellian devotion to his family. Though money has flowed out of safe-haven assets in recent days, we could have another round of threats from North Korea later today. That's because the U.N. Security Council is set to vote on another round of sanctions that would include asset freezes and an oil embargo on the nation.
Crude oil prices were mixed in premarket hours as markets assess the economic damage from Hurricane Irma. Energy economists will spend the duration of Monday trying to assess just how much U.S. demand will be affected by this storm. Meanwhile, on the global front, reports indicate that Saudi Arabia is exploring deals with other exporters to cut output through March 2018. According to rumors, the nation's oil minister contacted Venezuela and Kazakhstan about an agreement to extend production cuts. The WTI crude oil price today added 0.4%. Brent crude dropped 0.4%.
Finally, we're turning our attention back to the international markets. This time, our focus will be on the British Parliament. The legislative body will vote today on a key piece of legislation that will expedite the Brexit process. Prime Minister Theresa May has been campaigning hard to get this bill through Parliament. Failure to do so will only complicate an already volatile process.
Three Stocks to Watch Today: ACHN, AAPL, FB
Shares of Achillion Pharmaceuticals Inc. (Nasdaq: ACHN) plunged more than 30% in premarket hours after the pharmaceutical division of Johnson & Johnson (NYSE: JNJ) announced plans to discontinue development of a Hepatitis C drug. Achillion was a research partner in the drug's development. JNJ shares were up slightly this morning.
On Tuesday, Apple Inc. (Nasdaq: AAPL) will unveil its newest iteration of the iPhone. But this may not be just any old smartphone. The Verge reports the company may not call this phone the iPhone 8. Rumors have emerged that the device will be called the iPhone X. Expect a lot of enthusiasm heading into tomorrow's product event. It is expected that the new iPhone will cost at least $1,000.
Video
What Happened to America's Favorite Company?
Facebook Inc. (Nasdaq: FB) is going all in on original content. The Wall Street Journal reports that the social media giant is embracing video as the future of its platform and plans to spend up to $1 billion through 2018 in order to beat out its competition for the best content available. Shares of FB stock added 0.75% in premarket hours.
A light earnings calendar features an update after the bell from Limoneira Co. (Nasdaq: LMRN). Wall Street projects that the firm will report earnings per share of $0.53 on top of $41.60 million in revenue.
Monday's U.S. Economic Calendar (all times EDT)
Four-Week Bill Announcement at 11 a.m.
Three-Month Bill Auction at 11:30 a.m.
Six-Month Bill Auction at 11:30 a.m.
Three-Year Note Auction at 1 a.m.
Up Next: Why 2017 Is the Year for Investing in Renewables
Follow Money Morning on Twitter @moneymorning, Facebook, and LinkedIn.