President Donald Trump will make a move today (Aug. 14) that's sure to anger both China and Uncle Sam's allies alike.
Specifically, the POTUS will sign into effect an official measure to investigate China for intellectual property violations against American companies.
These violations are not anything new. Indeed, Trump's decision to investigate these violations now seems to have more to do with his insistence that China help with North Korea than actual intellectual property law.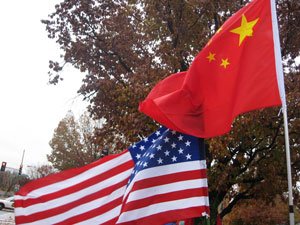 Today, CNBC reported that "Trump has said he would be more amenable to going easy on Beijing if it were more aggressive in reining in North Korea."
But the controversy surrounding Trump's memorandum today lies not in the pressure he's putting on Beijing, but rather in the way he plans to do it.
Here's what we mean...
To Hit China on Trade, Trump Will Invoke an Ancient Rule
To investigate Chinese trade practices, Trump will use Section 301 of the U.S. Trade Act of 1974.
This legislation allows the U.S. president to place trade tariffs on another country without congressional approval.
Originally, Section 301 was drafted to protect American companies and their workers from unfair U.S. foreign trade limitations by allowing them to investigate and audit their international partners' business doings.
But Trump's invocation of the law has some economic experts irked because it has been theoretically obsolete for over two decades...
As economist Chad Brown of the Peterson Institute for International Economics explained to Business Insider today, "[The U.S. government] built a brand-new trading system so we didn't have to use this law."
Must See: The South China Sea is about to get violent. But thanks to a small $6 U.S. defense firm with a top-secret new technology, China is about to be taken to the woodshed. Read more...
The "trading system" Brown is referring to is the World Trade Organization. Since its formation in 1995, many have considered Section 301 totally obsolete.
You see, the WTO's establishment brought with it an "expectation" that all member parties would henceforth defer to it first with their international trade disputes instead of taking unilateral actions.
"China's been engaged in the theft and forced transfer of U.S. technologies and intellectual property for years."
But Trump's decision to refer back to the 1974 Section 301 law shirks that expectation and allows him to do just that - to take unilateral action by imposing tariffs without Congress' or the WTO's backing.
Furthermore, Trump's move today ignores the basis for which the WTO was originally created, which was to support the foundation of peaceful world order and to promote multilateral trade relationships (a.k.a. globalization).
And that is why U.S. allies are sure to be angered by Trump's memorandum: It will set a new protectionist precedent that could harm not just China, but all of Uncle Sam's trade partners, as well.
U.S. Allies Are Already Lobbing Threats
The EU boldly issued an ultimatum to the United States about future protectionist moves in late June...
Though the EU itself has expressed grievances with China's trade practices - particularly with steel - its trade commissioner Cecilia Malmström told The Financial Times on June 26 that she feels the EU will be "unfairly targeted" should Trump decide to investigate and perhaps issue tariffs on China unilaterally.
The EU's concerns are compounded by the fact that Section 301 gives Trump the authority to issue "generalized tariffs."
A generalized tariff would tax all steel imports coming into the United States. And as the world's largest steel importer, such a broad move would hurt any American ally that exports steel, such as Canada, Germany, South Korea, and Mexico.
Malmström warned that if a unilaterally issued broad tariff from Trump does indeed hit the bloc "like it could," then the EU "will of course retaliate."
And that retaliation could, in turn, hurt President Trump's base.
"The Europeans plan on targeting bourbon from Kentucky and dairy products from Wisconsin," reported Business Insider this morning.
But regardless of the ostensible ripple effect Trump's invocation of Section 301 could create, some experts consider the president's memorandum today long overdue...
China Expert: The U.S. Should Have Done This to China Years Ago
Michael Wessel, a commissioner on the U.S.-China Economic and Security Review Commission, called the measure "a critical action," The Washington Post reported today.
"China's been engaged in the theft and forced transfer of U.S. technologies and intellectual property for years," Wessel explained. "Those activities haven't abated; they've accelerated as China seeks to become self-sufficient in new technologies and dominate world markets."
The Washington Post also pointed out that, if the investigation reveals that Beijing is indeed harming U.S. companies, Trump could not only issue import tariffs on the Red Dragon, he could also use his administration's findings as leverage in the fight against North Korea's nuclear threats.
In fact, several experts suspect this is already the president's core objective...
Trump's Ulterior Motive: Force China to Act on North Korea
Evidence of Trump's ulterior motive materialized in line with his administration's announcement of the memo.
Urgent: A perfect storm is brewing... bringing with it the greatest wealth event in 20 years. And it involves a completely unique "gold" play. The cash windfall from this rare event is expected to reach a whopping $13 billion. Find out more... 
You see, according to The New York Times this morning, the White House was originally planning to take action against China for its trade practices a few weeks back.
But then several days passed and all anyone heard on the matter was crickets.
However, it was also during this notably quiet time that the United States successfully lobbied China to vote at the United Nations Security Council in favor of additional North Korea sanctions on Saturday, Aug. 5.
Now, to make sure China follows through on that promise, the U.S. has a conditional consequence to hang over its head: today's memorandum.
By announcing that an investigation could find reason to slap China with heavy tariffs, the Trump administration is essentially attempting to threaten Beijing's hand into actively curbing North Korea's nuclear threats.
After all, Trump did say last Thursday that "If China helps us [with North Korea], I feel a lot differently toward trade, a lot differently toward trade," The New York Times added.
So, the ball's in China's court, to be sure...
But If China Fails to Keep Its Promise...
Then Trump, in turn, would follow through on his threats. And this outcome stands to both benefit and hurt U.S. companies as a result.
The benefits would come in the form of lessened competition from global industries impacted directly by the trade tariffs.
There would also be fewer instances of Chinese trade piracy as a result - at least in theory.
But some U.S. industries could also take a hit - such as the aforementioned whiskey and dairy sectors.
The airline industry could be hurt, too...
That's because changing just one trade agreement could cause airline traffic to plummet - leading to massive layoffs and dropping revenue and profits.
And on the aerospace side, there is supply-chain risk that comes from having a globally integrated supply chain.
But Money Morning Executive Editor Bill Patalon, whose expertise on U.S.-China military and trade relations spans at least three decades, knows that one U.S. company will withstand airline sector disruption no matter the cause...
Boeing Co. (NYSE: BA).
"Two out of every five new [Boeing] jetliners will serve Asia, where the business and pleasure travel markets are booming," Bill told his Private Briefing subscribers last November. "In general, Boeing sees 'strong and resilient' growth over the next 20 years."
And evidence of this growth was emerging just after Bill's coverage...
In fact, two days after writing about Boeing's outlook for his subscribers, the aerospace company's stock stood at $149.99 (on Nov. 14, 2016).
Today Boeing's share price is $236.30.
That's an increase of more than 57% per share since Bill first outlined how Trump's trade policies could disrupt the airline sector.
And since Bill first recommended Boeing back in 2011, when the aerospace manufacturer's shares were worth $61.92 a pop, BA's price has gone up a whopping 281%.
Check out more of why Bill loves Boeing (and why you should, too) in the video below:
Secret Weapon Set to Foil China's Master Plan: The South China Sea is about to get violent, and the Chinese have an alarming new superweapon they think gives them the upper hand. Or at least that's what their war hawks think. But they couldn't be more wrong. Thanks to a small $6 U.S. defense contractor with a top-secret technology, the Pentagon has an ingenious new checkmate move designed to stop a Chinese sneak attack dead in its tracks. Click here to learn more...
Follow Money Morning on Twitter, Facebook, and LinkedIn.
Related Articles: