We've been talking about gold a lot this week.
On Monday, we shared "The Savviest Gold Miner on Earth" – Goldcorp Inc. (NYSE: GG).
That stock has a 50% upside in the year to come.
And yesterday, with some help from Money Morning Resource Specialist Peter Krauth, we led a class on "A Brief History of a Metal" – a quick look at the ups and downs in gold prices over the past few years.
In that report, we not only helped you understand what's really happening to gold prices now. We also revealed the spark that we believe is going trigger the resumption of gold's bull market – China and its upward revision of its gold holdings.
And we told you that one of the most highly undervalued sectors available to investors right now is gold equities.
Finally, we promised to share with you some ways that you can invest in gold equities in order to prepare yourself for the scenario we laid out for you in that report.
Today, we deliver on that promise.
A "Second Chance"
To help you grasp just how much disdain there is toward junior gold stocks, check out this chart, which shows how cheap gold stocks have become relative to gold itself.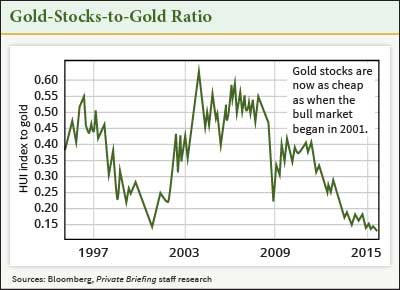 What this chart tells us is that, despite being 15 years into a secular gold bull market, gold stocks are once again priced (relative to gold) as though we were at the
very beginning of this bull
.
In other words, anyone who's missed this gold stock bull now has a rare second chance.
There has been significant consolidation in gold stocks, starting in late 2011, intensifying in 2013 and playing out in earnest since last fall.
Of course, the major determinant of gold stock values is the price of gold itself. Yet according to BMO Capital Markets: "Our view is that the precious-metal miners as a group are far more prepared for lower gold and silver prices than the market perceives."
BMO analysts believe that gold miners have been diligent in their cost-cutting endeavors. They forecast that over the next five years some 86% of miners will break even on a free-cash-flow basis below current spot gold prices.
The problem is we can't know exactly when gold prices, and by extension gold equities, will bottom.
So I've uncovered an attractive gold stock that pays a dividend in the meantime – and will grow cash flow even if gold stays at $1,200.
Don't Be "Thick" and Miss This
Royalty companies can be one of your best friends in the gold investment world.
These companies are essentially publicly traded mine financiers. They provide funding to mining companies to explore or build their mines, rivaling banks and other lenders.
In return for funding, the royalty company establishes either a royalty or a stream.
A royalty is usually established when funding an exploration program, whereby the royalty company will receive anywhere from 1% to 5% of sales from future production.
A stream is typically established when funding a large and costly mine construction project. In return, the producer promises a minimum number of gold ounces or a percentage of gold ounces produced annually, at a large discount to the current spot price.
The beauty of this business model is diversification across numerous royalties, with no exposure to capital cost overruns or rising production costs.
Oh, and margins tend to be very thick.
One of the best and biggest names to own in this sector right now is Franco-Nevada Corp. (NYSE: FNV).
Gold industry legends Pierre Lassonde and Seymour Schulich originally established Franco-Nevada back in 1983.
When Franco-Nevada went public in 2007, its royalties were $3.3 million annually. By last year, that had exploded to about $440 million.
How could it have grown so much?
Part of the reason is that Franco-Nevada gets a royalty not only on the mine, but on the whole land package around that mine. As the gold producer continues exploring and finds and produces more gold, Franco-Nevada collects on all the upside… without spending a single cent more.
This concept is known as "optionality," and here's how gold ounces attributable to Franco-Nevada have grown since 2008. A large portion of this is due to producers adding ounces through exploration on their properties – all free to Franco-Nevada.
Franco-Nevada has the deepest pipeline of mineral asset optionality, with 45 producing, 40 advanced and 158 exploration assets.
The company has a $7 billion market cap, an enviable 20% profit margin and no liabilities – and it pays a 1.8% dividend.
What's more, Franco-Nevada's war chest holds $850 million in available capital it can put to work in this environment that's ripe for deal-making, with the advantage heavily skewed toward the cash-rich acquirer.
Sixty-nine percent of Franco-Nevada's 2014 revenue was from gold, 11% from platinum group metals, 17% oil & gas, and 3% from other minerals.
As you can see, Franco-Nevada has handily outperformed gold itself since 2008, a trend we think will continue thanks to the company's growth prospects.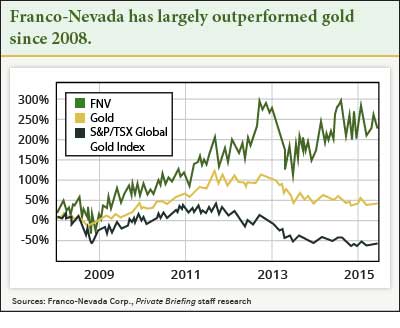 As for a catalyst for a higher share price, Franco-Nevada's revenue is forecast to grow by 14% from 2015 to 2017, with cash flow up a stunning 40%. And all this based on gold at $1,200, something we seriously doubt will last.
In fact, a rising gold price will serve to expand profits, drawing in more investors and pushing shares up higher, with the dividend also likely to grow.
That makes Franco-Nevada a "Buy" at current levels.
Given how cheap gold stocks are based on numerous metrics, and how rotten sentiment is now, it's a great time to be a Contrarian.
Have a great weekend, folks.
I'll see you Monday.
[Editor's Note: Unless otherwise recommended, we recommend investors employ a 25% "trailing stop" on all holdings.]
Related Reports: