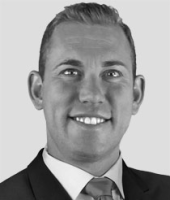 Andrew Keene
The best, most successful traders I know are always ready to turn "pain" into "gain."
Whether they're buying beaten-down quality stocks caught up in a sector-wide sell-off, or trading inverse exchange-traded funds, or trading puts - whatever the circumstances or strategy, they recognize profit opportunity when everyone else is losing their shirt.
The lost shirts are beginning to pile up on the Nasdaq. The tech-centric index actually took the worst of Wednesday's broader beat-down; it lost more than twice what the S&P 500 did on that day and did nine times worse than the Dow, which actually set intraday and closing records. Those two indexes were headed higher at lunchtime Thursday, but the Nasdaq is still off more than 3.5% for the month.
If that's not pain, I don't know what is. It's overwhelmingly hitting Big Tech right now.
On the other hand, the gain is going to go to investors who can spot value and the right levels to buy.
That's what's got me interested in Apple Inc. right now...