I want you to look at a chart - the SPDR S&P 500 Trust ETF (NYSEArca: SPY), which tracks the S&P 500 index. It's how mere mortals like us can play the stock market for essentially pennies on the dollar.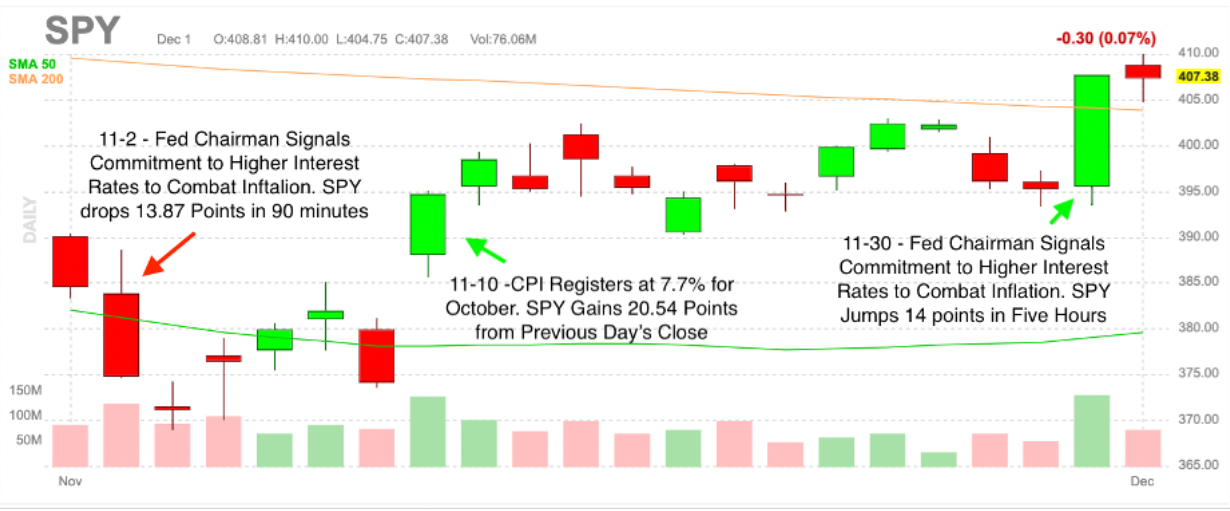 Here's what you're looking at...
In November, markets experienced dramatic swings up and down based on statements coming out of the Federal Reserve. Following the November 2, 2022 Fed meeting, Fed Chair Jerome Powell reminded investors that the central bank would continue raising rates to reach its 2% inflation target.
Powell's statement fueled the worst one-day performance ever on the occasion of a Fed Open Market Committee meeting. That specific selloff is marked by the red arrow on the chart's left side.
Then, on November 30, Powell spoke at the Brookings Institution. Again, he said the Fed would aggressively raise rates to reach 2% inflation, albeit at a slower pace of hikes. Speculation of a 50-basis point hike fueled a short-covering S&P 500 rally over the last two hours of the trading day. That's the green arrow on the right.
Then the S&P 500 rallied to 4,100 on Thursday, hitting that key support number.
Here's the thing, though: Nothing had changed in Powell's language. Like at all.